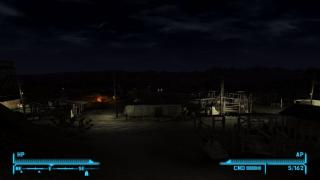 Views: 2,418
1.0
nightlith
Darker Nights, Brighter Lights (now with 100% more NIGHT VISION!)
------------------------------

This mod drastically alters the nights, leaving the wasteland a very dark, foreboding place to explore. However, the existing lighting is brighter and illuminates a larger area in civilized areas. Also, the night vision effect has been improved to feel more authentic.

DN More Lights will be the core of this mod, adding more lights in civilized areas to give each a more lively feel. Considering how dark the wasteland is, it doesn't seem right that Goodsprings only has one lamp post! This is very incomplete, and will be the biggest change for revisions.

Regarding the Night Vision Goggles: They can currently be bought from 2 vendors: Lacey at the Mojave NCR Outpost, and that gun runner dude at 188. They can be repaired with other Night Vision Goggles, and I'm working on figuring out how to add them to NPC drop tables...

Installation:
-------------

This mod comes with 3 esp's.
1) URWLNV Darker Nights
2) URWLNV Brighter Lights
3) DN More Lights
4) NVGoggles

Just drop these files in the Data directory and add them to the launcher.


Uninstall:
----------

Delete the esp's from your Fallout New Vegas Data directory or uncheck them in the launcher. Note that if you use DN More Lights and later disable it, you may get a content warning when you load your save. This is normal.


Known Issues:
-------------

Currently, loading a game with the night vision goggles equipped will not apply the effect. You'll need to unequip and re-equip to restore the effect. Hopefully I will find a fix soon.

The goggles currently do not have PipBoy icons of any kind (I can't draw) or a 3d model (I can't model either) and they are using the biker goggles as a temporary model. ETA on a fix? I suppose when I can get a stickman drawn in Paint with goggles attached? :)


Credits and Thanks:
-------------------

Thank you to all the commenters at NVNexus who's help has allowed me to fix things I'd never have noticed myself. Thank you to NVNexus for hosting this mod. And thank you to Marcurios for kicking this off by making URWLNV!
Oh...and thank you to Obsidian and Bethesda ;)


Version History:
---------------

1.10 -
Added Night Vision Goggles to offset the dark nights. Should give
some more incentive to explore the wastelands at night when you've
run out of Cateye :)

1.02 -
Goodsprings residents admonished for their wasteful behavior will now
turn off their lights at sun up. (Thanks to NeilCardiff)

1.01 -
The New Vegas Utilities Commission has finished work along the roads
from Goodsprings to Primm ;) Goodsprings also had a couple more
lights installed.

1.0a -
Initial release. Some lighting added along the interstate outside of
Primm, as well as increase light brightness throughout the Wasteland.