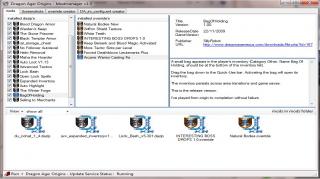 Views: 20,034
1.9d
Altorian
This is a Modmanager for Dragon Age and daupdater Replacement. It manages the *. dazip, overrides and screenshots. The .net framework 3.0 is required
Note:
Override creation was changed with version 1.4 to below folder, compatibility test works with older Override's not, rebuild their override's.



Features:

1. Management dazip (install, uninstall, activate, deactivate and show details)
2. Management override packages (creating, installing, uninstalling and show details)
3. not yet installed mod packages now Show details
4. Management Screenshots
5. Full Drag and Drop
6. Checking if already installed
7. DragonAge.ini Mod config System
8. Addins.xml is checked for invalid characters at the start and, if necessary, repaired.
9. Starting DragonAge, configuration tool, tool set and the update service
10. Creator for the DA_ini_config.xml
11. Creator for the override packages
12. override Compatibility Testing
13. Edit existing override's
14. override creation now supports complex folder trees, drag & drop folder in the file window
15. Options added for more flexibility and compatibility
16. More display filter for the mod packages window
17. Override package now supports optional files, to easily configure the Override package right-click the installed override and select config



short description of the DA ini config system:

1. create the DA_ini_config.xml for the mod
2. open the dazip with 7zip and add the DA_ini_config.xml to "Contentsaddinsmod folder" and install it
or add the DA_ini_config.xml to ...DocumentsBioWareDragon AgeAddInsmod folder
3. Right click within modmanager on the mod and select config



short description of the override creation:

1. click on the top new override Packet
2. fill out the fields
3. click in the explorer tree to their overridemodfolder and mark it
4. drag&drop the Data from the Zip-file into the Folder-window
5. click to create

short description of the OverrideConfig System:

1. create the packet like you've done before
2. rename the optional files like:
original breast = (Breast original)hf_arm_nud_0.msh
big breast = (Breast big)hf_arm_nud_0.msh
small breast = (Breast small)hf_arm_nud_0.msh

3. add the optinal files to your packet, you can use a sub-folder
4. now create the OverrideConfig.xml, at the moment it's only working manually
5. add the OverrideConfig.xml to your packet (in folder override/modname)
6. create your packet
7. install your packet
8. right-click on your installed override and make your configurations

Note:
It is important that they have in that folder by the manager write right. The finished Override's are created in the folder.
Drag and Drop not working in admin mode, it is not a bug, it is a Windows Future (vista/win7)



Das ist ein Modmanager für Dragon Age und daupdater Ersatz
Er verwaltet die *.dazip und overrid's und Screenshots.

.net framework 3.0 wird benötigt

Achtung: Override-Erstellung wurde mit Version 1.4 auf Unter-Ordner umgestellt
der Kompatibilitättest funktioniert mit älteren Override's nicht, bitte erstellen Sie Ihre Override's neu



Features:

1. Verwaltung dazip (Installieren, Deinstallieren,Aktivieren, Deaktivieren und Detailanzeige)
2. Verwaltung Override-Pakete (Erstellen, Installieren, Deinstallieren und Detailanzeige)
3. Noch nicht installierte Mod-Pakete haben nun auch eine Detailanzeige
4. Screenshots-Verwaltung
5. Vollständiges Drag&Drop
6. Überprüfung ob bereits installiert
7. DragonAge.ini Mod config System
8. Addins.xml wird beim Start auf ungültige Zeichen geprüft und notfalls repariert.
9. Starten von DragonAge, Konfigurations Tool, Toolset und des Update Dienstes
10. Creator Für die DA_ini_config.xml
11. Creator Für die Override-Pakete
12. Override Kompatibilitäts-Prüfung
13. Editieren vorhandener Override's
14. Override Erstellung unterstützt nun auch komplexe Ordner-Strukturen drag&drop Ordner in das Datei-Fenster
15. Optionen hinzugefügt für mehr Flexibilität und Kompatibilität
16. Mehr anzeige Filter für das Mod-Pakete Fenster
17. Override-Paket unterstützt jetzt optionale Dateien, zur einfachen Konfiguration des Override-Paketes. Rechtsklick auf das installierte Override und wählen Sie Config.



Kurze Beschreibung des DA ini config System:

1. Erstelle die DA_ini_config.xml für die Mod
2. Öffnen Sie die dazip mit 7zip und fügen Sie die DA_ini_config.xml in Contentsaddinsmod Ordner ein und installieren Sie sie
oder fügen Sie die DA_ini_config.xml in ... DocumentsBioWareDragon AgeAddInsmod Ordner ein.
3. Rechter Mausklick im Modmanager auf die Mod, und wählen Sie config



Kurze Beschreibung für die override Erstellung:

1. Klicken Sie oben auf new override Packet
2. Füllen Sie die Felder aus
3. Klicken Sie sich im Explorer Baum zu ihren overridemododner und Markieren sie ihn
4. Ziehen Sie die Daten aus dem zip file in das Ordner-Fenster
5. Klicken Sie oben auf erstellen



Kurze Erklärung für das OverrideConfig System:

1. erstellt euer Paket wie sonst auch
2. die optionalen Dateien müssen umbenannt werden z.B.

Original Brust = (Breast orginal)hf_arm_nud_0.msh
große Brust = (Breast big)hf_arm_nud_0.msh
kleine Brust = (Breast small)hf_arm_nud_0.msh
Realistic Look Brust = (Breast Realistic Look)hf_arm_nud_0.msh


3. die optionalen Dateien fügt ihr nun zu eurem Paket hinzu Unter-Ordner können dabei benutzt werden
4. nun müsst ihr euch die OverrideConfig.xml erstellen das geht zur zeit leider nur von Hand
5. fügt die OverrideConfig.xml zu eurem Paket hinzu (muss in den Ordner "overridemodname")
6. erstellt euer Paket
7. installiert euer Paket
8. nun könnt ihr euer Override nach belieben einstellen indem ihr bei den installierten Override's auf euer Override rechts klickt und Config auswählt



Anmerkung:

es ist wichtig das Sie in dem Ordner vom Manager Schreibrechte haben. Die fertigen Override's werden in dem Ordner erstellt.
Drag and Drop funktioniert nicht im Adminmodus,es ist kein Bug, es ist ein Windows Future (vista/win7)