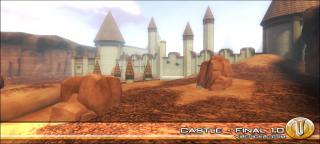 Views: 1,038
1.0
David Lohmeyer
Fresh from porting Mach and inspired by Mr. Parlay's Stronghold castle theme, I had a strong desire to make an original "castle" map of my own. Since CTF doesn't work quite as well in TF2 (in my opinion), this is a CP map similar to Dustbowl in that it has 3 individual areas and is attack & defend.

Stage 1
(7.5 minutes): Meant to be fairly easy for a pushing offense to capture

Stage 2:
(add 4.5 minutes per CP): Meant to be somewhat more difficult for an offense to capture, but with sufficient time given it should be attainable

Stage 3:
(add 4.5 minutes per CP): This is meant to be the most difficult to capture of the 3, but there should be a good amount of time accumulated by now if offense is doing well.