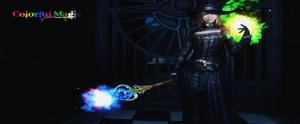 Views: 6,157
1.01
184Gesu
Preface
Sorry. I don't speak English. I'm relying on machine translation. Please forgive my poor English.

Thankyou very much for downloading, and if you have, endorsing, if you have not, it would make me very happy if you would! I am unable to return comments, as my native language is not English, but I will watch them carefully for comments and bugs. I will continue to keep trying to fix bugs and other issues.


Installation
After having installed a Colorful Magic v1_0(main file), please Replace esp of 1.01.

To people annoyed by Whiterun CTD sorry. It was my lack of explanation. It is necessary to Install 1.0 before Installing 1.01.


Features
This mod adds over 63 new, totally unique spells more than ten equally unique enemies, and a few magical items for the magic user.
Most of the new spells are destruction, which arevery flashy and powerful.

You can buy most of these as spell books from a mod added vendor and some of the unique items can be obtained by defeating the new, mod specific enemies!


Known Bugs & Issues
・When have "Elemental Potency", some summonses fail. Fixed in the 1.01 update


Spell List
1.01 Spells currently integrated


Destruction
Blue Flames
Blue Fire Bolt 
Blue Burst
Cobalt Flare 
Burst Stream 
Hell Fire
Freezing Wave
Lightning Wave
Curse of Fire
Silent moon flare
Blitz
Thor Thunder
Thunder Storm
Blue Spark 
Evil Lightning
Blue Lightning 
Frost ball
Lightning ball
Hell Fire ball 
Poison brow
Cold Spear
Electric Shock
Blue Lightning bolt
Whirlwind 
Air blast 
Cutting Wind
Wind Cloak
Gale Cloak 
Hurricane 
Absolute zero 
Blast Blizzard
Rock Blast
Boulder smash
Burst rune
Freeze rune
Electric Shock Rune
Eternal Force Blizzard 
Water Wave 
Oil Wave 
Poison Wave 
Tidal Wave 
Rapid Fire
Plasma Ball 
Apocalypse


Conjuration
Conjure Blue Flame Atronach
Conjure Blue Flame Great Atronach
Conjure Blue Flame thrall
Conjure Dark Flame Atronach
Conjure Hell Flame Atronach 
Conjure Wind Atronach 
Conjure Wind thrall
Conjure Earth Atronach
Conjure Great Frost Atronach 
Conjure Heretic Dremora Lord
Soul Taker
Magicka Plunder
Soul Eater  
Energy Stealer
Soul Breaker 
Summon Bahamut
Summon Black Diamond Golem

Illusion

Dark Flame

Alteration

BecomeEthereal

Powers

Over load


All-in-all, 63 new spells