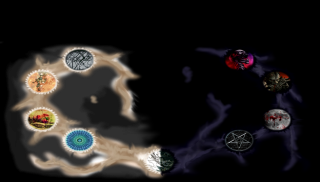 Views: 10,302
5.0
Heavy-Metal-Fan
Hello everybody!

I have made a new mastery mod for Titanquest Immortal Throne, which is called "Clash of the Gods". In this modification the 9 masteries, which are called Philosophies, are separated in 4 "good", 4 "evil" and one "neutral".

I. 1. Features
* 9 new masteries, called "Philosophies"
* Potions are stackable up to 50
* New designed charakter- enchanter- and mastery selection screen
* New high-level Set with mystery
* Many easter eggs
* 80 new affixes, made by Kir4
* 2. Philosophy at level 12
* Boni at the 32nd level of the skill bar
* New Item-class: "The Oathstones"


I. 2. Version 5.0 (14. 07. 2010)
* New Effects
* Oathstones
* And many bug- and balacefixes

II. The Philosophies
Earth will be replaced with Exorcism
Warfare will be replaced with Heresy
Defense will be replaced with Judicature
Nature will be replaced with Spirituality
Ghost will be replaced with Occultism
Rogue will be replaced with Zombiefication
Dream will be replaced with Ambivalence
Storm will be replaced with Esoterism
Hunting will be replaced with Demonology

Judicature
Judiciary is the cave of stone that offers protection to the weak and poor, keeping all evil beings out. With his strong arm and iron will, the Judge shatters all underwordly dangers."

Exorcism
"Even the most abnormal souls fear the Exorcist, because there's no Warrior among the forces Good that equals his doggedness. With his strong skills the Exorcist excels at both, melee combat and magic."

Esoterism
"Esoteric deals with the supernatural energies within the body to do miracles. Above all, the Mystic is able to heal and protect himself and his allies."

Spirituality
"Those wandering on the path of Spiritualism are entities blessed by the Gods, carrying the divine powers of the elements. Chosen to eliminate all evil on the world, a Spiritualist is also able to summon powerful minions to lead the good-hearted to victory."

Ambivalence
"The Edgewalker doesn't make a difference between good and evil- the middle way suits him best. He preserves the inner balance of the universe by keeping the eternal battle between good and evil alive."

Occultism
"An Occultist studies the dark arts, completely disregarding all possible risks. His miscellaneous knowledge makes him a dangerous enemie of the good-minded."

Heresy
"The Heretic is widely known for his cruelty and ferocity in battle. He is a sadistic murderer through and through and the total warrior."

Zombiefication
"The Awaker gathers many dead slaves through dark alliances with the gos of the underworld. He fights many enemies as good as superior creatures because of his dastardly skills."

Demonology
"Demonologists are swift mages, capable of using bows, spears and staffs and skilled in offense, defense and magic. His variety of skills offer a solution for every problem."