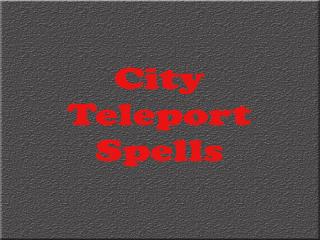 Views: 1,551
1.1
chairmanxyzSkyrim
This is a modification which adds spells that allow you to teleport to all of the major hold cities in Skyrim. I mainly created this mod for my use because I could not find a proper, lore friendly way for my mage to move about skyrim without using fast travel.

The mod was designed to be well balanced in that you can only gain access to the spell books which teach the spells by first visiting the city in which you want to teleport to. In each city, near the entrance, there will be a spell tome on a barrel which contains the teleport spell for that city. I did this to keep the mod from being overpowered, so if you want to teleport to a city, you must have visited it first.



Information about the spells
Skill Type: Alteration

Skill Level: Adept

Magicka Cost: 150

Please feel free to leave feedback or requests. Also note that the teleport locations were placed based on the way the cities look in my game. If you are using a city overhaul mod and one of my items gets in the way let me know and I will move them.



Revisions
#1 --- Added Morthal teleport spell.