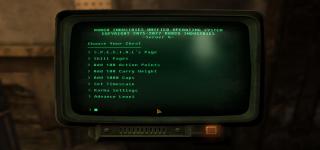 Views: 50,512
1.1
borjoyzee
Name: New Vegas Cheat Terminal
Version: 11
Date: 01/01/2011
Category: Cheats
Author(s): Borjoyzee


Description
A Terminal in Doc Mitchells house next to his Vigor machine with lots of options for cheating and other useful options.



On the Terminal you can
Set SPECIALs and skills to 10 one-by-one or fine tune each of them to your liking.



Add perks and traits
Normal perks, companion perks, challenge perks, implant perks and even perks from Fallout, 3 which were not included in NV. Also the option to remove each of the perks and traits.

Items and equipment. All weapons, armor, aid, ammo (Regarding the 50MG ammo, don't add too much as it can crash your game according to Wiki: -=> http://fallout.wikia.com/wiki/.50_MG <=- Check the bottom of the page), weapon mods, meds, food, drinks, books, caps and miscellaneous items are obtainable from the terminal. The option to add/remove a portable version of the terminal accessable from Items and equipment to take with you into the wasteland. Select it in Pipboy listed under Aid and exit Pipboy will bring up all the terminals options. There are some special weapons in weapons menu, they are:

1. Psychotropic Rifle, looks like a grenade launcher, but shoot globs of frenzying goop. When hit enemies in
close proximity to the poor chump coated in this crap will go insane for 1 min attacking each other. Due to the
projectile arc it's fairly difficult to hit anyone but in VATS it's much easier. (Plus you get to watch as it flies through the air in slow motion before knocking the recipient on his ar$e) Possible to frak up quests if used too close to friendlies, use with caution.

2. Poisoned Throwing Knives, never really used throwing knives in my first game but I will now. Inflicts minor
damage on hit but will poison 5 points for 1 minute.

3. Lethal Combat Knife, does minor damage but in sneak mode and whilst undetected will cause massive damage, probably killing outright. Though Deathclaws and such might survive the first strike. Although it will probably detect you after that so...

4. Super Duper Sledge, same damage as a normal Sledge but will send 'em flying on each hit.

Under Character Cheats you can add 100 action points (I find around 200 is more than enough) also you can add
100 carry weight, add 1000 hit points, add experience, level up beyond 30 once 30 is reached, and add certain
amounts of experience. Alter Karma, repair current weapon or bring up the repair menu based on your own repair
skill. Will need caps for the more expensive repairs but caps won't be taken from you. Based on your own repair
skill so a repair skill of 50 will only allow weapons to be repaired to 50%. And lastly there are some player buffs, here you can:

1. Set critical chance to 100 so you always critical.
2. Damage resistance to 100, still take damage though it will be reduced.
3. Fire, Poison and Radiation resistance, though you will still take that damage but will be reduced.
4. Melee damage to 100, still need to use a weapon.
5. Unarmed damage to 100, but don't equip a weapon.

Under Game Alterations you can Set the timescale, there are 4 option from normal default gametime to realtime (best used in normal mode atm though, HC mode will affect hunger, thirst and sleep) Set the players height, there's Small, Smaller and Even Smaller, Tall, Taller and Even Taller, also return back to normal height. Set your reputation with the various communities in the wasteland, increase or decrease.

Lastly Reveal all mapmarkers, which is similar to the Explorer perk but you can instantly fast travel to them.

Personal Storage. Access remote storage containers, 1 each for weapons, armor, aid, ammo, and and misc items. Also 3 more spare containers for general items.


Mark and Recalls
The ability to set up to 4 Marks and Recall to them instantly. Use with caution as they can allow you to bypass some limitations, for example being able to recall out of places and situations you shouldn't, potentially breaking some quests.

Next to the Terminal there is a Plastic Surgery Console where you can alter facial features and facial hair, change race, gender and your name.

In game alterations you can now set companions status to essential and back to non-essential. Also the ability to teleport them to your location. I HIGHLY recommend that you use that feature if you already have that companion though, as some require a quest to be completed first, so don't use it on them. Some were ok though like Arcade, Raul and Veronica as you can hire them soon after talking to them, but still recommend you get to where you find them in the first place to hire them. Boone, Cass, Lily and Rex you cannot hire at first so don't use on those straight away. ED-E is a special case as there are 3 versions of it, the normal version you get at first, the armor upgraded version and the weapon upgraded version, so I've included all 3. It's possible to have all 3 at the same time, but you can only bring up the companion command wheel on the main ED-E, the others will just do what the main one does. Also included the option to dismiss ED-E.

Now it's possible to instantly teleport to several key locations, Mojave Outpost, Cottonwood Cove, Jacobstown, Road leading to the Boomers, Door to The Strip in Freeside, Hoover Dam and Camp McCarran.

Under Character Cheats you can now heal all damage, heal crippled limbs, remove all rads and remove all addictions.

Under Items you can now select Pipboy options with the ability to add and remove again both the normal pipboy and the pimpboy 3 billion. Also the ability to take away the pipboy glove. Though this may or may not interfere with pipboy mods like Readius. I don't have it yet so, I don't know.

You can now reset fame and infamy properly back to neutral.

Key Box in Misc items, a storage box containing all keys from the game.

Now possible to remove quest items, specifically armor and weapons.

Trash Container to get rid of unwanted items, under Items & Equipment.

Crafting Page under Game Alterations->Crafting. For Campfire, Reloading Bench, Workbench Crafting.

-NEW- Item Duplication, under Game Alterations. Duplicate any item, vanilla or modded items. Place an item in the first box, click "Duplicate Item" and retrieve the duplicated item from the copied item container.

-NEW- Summon and dismiss Testacles the Debug Centurion. Talking with him you can alter lots of outcomes regarding quests and the ending slideshow. And lots of other things like another way to alter reputation. Find him under Game Alterations->Summoning. Saving your game before summoning and talking to him, highly recommended.

-NEW- Summon The Merchant. If you need another way to offload some stuff when you've hit max encumberance, summon The Merchant. He has 10000 caps to deal with, has a sandbox AI package meaning he will walk around and interact with the environment, sitting on chairs etc. Anything you sell to him will be gone for good so be careful what you sell to him. He is next to Testacles on the summoning page. Save before talking and selling to him.

Recommended mods
-----------------
Faster Terminals: http://www.newvegasnexus.com/downloads/file.php?id=36902

Greatly speeds up all terminals, including the Cheat Terminal.

Install
=======
1. Extract the files to a temporary location.
2. Examine the folder structure and make corrections where necessary.
3. Look for Program files, steam, steamapps, common, fallout new vegas. In the fallout new vegas folder look for
another folder called "Data", put the esp. file in there. Run the launcher, click "DATA FILES" and tick the box
next to FalloutNVCheatTerminal. Click ok and run the game, terminal will be next to doc Mitchells vigor machine
at game start.

Uninstall
=========
1. Start Launcher, click Data Files, uncheck the .esp file(s).
2. Delete the files/folders associated with the mod.

Incompatibility
===============
Only if you have a mod which alters the same space.

History
=======
v1 - Initial release.
----------------------
Set all SPECIALs to 10. You can do it one by one of you don't want them all at 10.
Set all Skills to 100. Again, pick and choose which ones you want at 100.
Add 100 Action points. Can be done more than once. Not sure of the effect of adding like a million action so be
careful. I find 200 is more than enough.
Add 100 Carry Weight. Same as Action Points, can be done more than once.
Add 1000 Caps. Keep clicking for as much as you want.
Set Timescale. Four options from Default game-time to Realtime.
Karma Settings. Wanna be good or evil, or just correct the bad karma from an unintended murder?
Advance Level. Instantly level-up.

V2 Update
----------
Added all perks to the terminal now. No option to remove them as yet maybe at a later date, but I have also
included the challenge perks you get from killing certain amounts of enemies or fulfilling certain requirements,
they are listed separately. Also included are some perks from Fallout 3 that were not included in NV, like
Moira's Survival Guru and the Wired Reflexes perk, listed separately as well.
Added option to repair current weapon.
Added new option ITEMS, which I intend to add armour (or armor if you prefer :P) and weapons and other items.
Not finished yet but what I have done there so far is weapon mods.
Under CHARACTER CHEATS I have added the option to increase your hit points by 1000 each you click it.

V3 Update
----------
Added all weapons and armor and ammo to the terminal. Any unique or quest items I have marked so you'll know
which ones they are.

V4 Update
----------
Added all items under "Aid" section, Food, Drink, Meds etc.
Added Reveal all map, similar to explorer perk, but you can travel to places straight away.
Added player buffs to player cheat section.
Added the companion perks.

V5 Update
----------
Added the items listed under misc
Added the ability to now remove perks
Added the ability to now fine tune SPECIALS and skills

Portable Version v1 Update
--------------------------
Portable Version.
Added the ability to adjust reputations, theres some notes on the terminal on how it works.
Added the repair menu, you'll need caps still for the more expensive repairs, but caps shouldn't be taken from
you. The better your repair skill the better repairs will be. eg repair skill at 50 you will only be able to
repair to 50%
Added the ability to change your height (hey why not?) Theres small, smaller and even smaller, taller, taller

and
even taller. Also you can return to normal.
Added xp rewards now in various amounts, alongside still being able to instantly advance a level.
Added the implant perks, and removal.
Cleaned up the terminal a bit also.

Portable Version V2 Update
---------------------------
Some Minor corrections

Portable Vesrion V3 Update
--------------------------
Added a portable storage page, with weapons, armor, ammo, aid and misc containers. Thanks to ITJunky.
Added some missing items, detonator, binocs, bumper sword and its unique.
Added Mark and Recall page.
Added 1000 ammo each click instead of 100 and 10 grenades/mines each click now.
Added some special weapons to the weapon page.

Portable Version V4 Update
--------------------------
Added Plastic Surgery Console next to the terminal in the Doc's house. Change Face/Race/Gender/Name

Portable Version V5 Update
---------------------------
Added the option to make companions essential and non-essential. Also the option to teleport them to your
location.
Added a few missing items.

Portable Version V6 Update
--------------------------
Added teleport locations to several key locations.
Added heal all damage, rads, crippled limbs and addiction.
Added a few missing items.

Portalbe Version V7 upadate
---------------------------
Added pipboy/pimboy.
Resetting of fame and infamy.
Some missing items.

Portable Version V8 update
--------------------------
3 more storage containers for personal storage, called General Items 1, 2 and 3.
Key Box in Misc items, a storage box containing all keys from the game.
Now possible to remove quest items, specifically armor and weapons.
Some missing items.

Portable version V9 Update
---------------------------
Separate page for various amounts of caps, from 500 to 50000. Look under misc items.
Added Trash Container, to get rid of unwanted items.
More missing items.

Portable Version V10 Update
----------------------------
Added Crafting page to Game Alterations->Crafting. For Campfire, Reloading Bench and Workbench.
Added ARCHIMEDEs II Charges to ammo list.
Added all 8 Pre-War Books to Book list.

Portable Version V11 Update
---------------------------
Added duplication of items.
Added summoning of Testacles the Debug Centurion.
Added summoning of The Merchant.

Contact
=======

Me, here.

Credits
=======

Thanks to ITJunky for allowing me to use his ideas for portable version and player storage.
Thanks to Bethesda and Obsidian for creating the game
Thanks to TESNexus.com for the a one-stop-shop resource for authors and players.
Thanks to LHammonds for the Readme Generator this file was based on.
Thanks to God for creating us all.

and to others I may have forgotten.

Tools Used
==========
GECK
Readme Generator - http://lhammonds.game-host.org/obmm/tools_readme_generator1.asp

Licensing/Legal
===============
You can do whatever you want with this mod please at least credit ItJunky and myself.