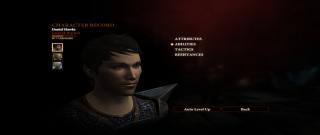 Views: 18,149
1.2
trufflesduval
All new complete revamp of the dragon age 2 character creator!

Along with the files is a family preset editor.

Using ANY preset after the first 10 will result in an ugly bethany/carver (IMO all except the defaults are ugly)

So I've included modified presets of your family.

Regardless of what preset you choose you will have the default faces of Bethany/Carver/Mother.

Bethany however has the option of having 4 different hairstyles which are more in detail in readme

-----------------------------------
Changelog
-----------------------------------

v1.2

Default Hawke is now customizable (Use the 3rd slot preset)
Added tons of new default presets
Added New Hairstyles
Added Elf and Dwarf presets (these will look odd, added mainly for testing)


Known Issues

Presets dont have their own face shape, they all have the default face shape.
This is probably due to a lack of .mrh/mop files. If any of you find anything usefull let me know.
For now they only give you a general idea of what the person should look like.