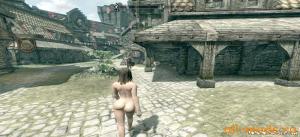 Views: 7,948
1.0
rickyrickylo
SPECIAL ANNOUNCEMENT!
I personally recommend 'Victorias High Heel walk Animation plus BBP' made by xp32!

That mod has better result than this one and please remove this mod.

I highly recommend forget mine and support xp32's. by rickyrickylo

Watch the video!


Catwalk 1.0
This is a WIP animation for all player and npc female walk as I hated the standard walk animation. Now please understand I am a novice at animation and that I am learning as I go.

There are 2 versions, Normal version and Exaggerated version. Only install 1 version.


Installation
Drop the meshes folder from whichever option you want into your skyrim data folder.


Uninstallation
Delete 'mt_walkforward.hkx', 'mt_walkforwardleft.hkx' and 'mt_walkforwardright.hkx' in 'data/meshes/actors/character/animation/female' folder and 'mt_idlemuscularoffset.hkx' in 'data/meshes/actors/character/animation' folder


Known Issues
Right now the only issue I know of is a slight skip in the left leg animation when stepping forward. I have yet to be able to get rid of it entirely.


This mod has already got permission from author Edoin.

Thank you, Edoin!