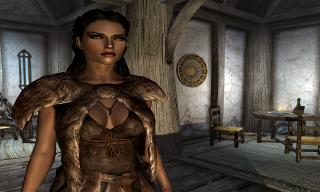 Views: 47,513
2.1.0
Caliente
Mage pack will be released some time after the CBBEv3.2 update! No ETA!



The official armour/clothing replacer for CBBE: Caliente's Big Bottom Edition.[/color]

Contents
Description
Packs
Required Files
Installation
Notes
FAQ
Planned Updates
Latest Version
Old Versions




This is a work in progress -- additional armor/clothing conversions will be gradually added to this mod! The aim is to convert -all- the vanilla Skyrim, and future DLC, armour/clothes to fit the CBBE bodies + BodySlide.

A set of armor replacers that fit the standard skyrim armor models to the shape of Caliente's Body. That is to say, a somewhat curvier figure than is normally available in Skyrim. The armor sets have been reshaped and reweighted, but are intended to stay close to the apperance of the original armor. In some cases the resulting appearance change is subtle, and in others obvious. In all cases, you will feel more comfortable in armor that fits!

These armors are fully BodySlide compatable, meaning you can custom design a shape that appeals to you! This method requires my BodySlide tool (v1.3 or later), which can be found as an optional download on the main CBBE mod.
These armors are NOT designed to work with BBP, apologies.
Reminder: to use the Bodyslide versions of these outfits, Caliente's Bodyslide 1.4 is required!
Note, no significant changes were made to the texture coordinates, so any existing texture modifications for these Skyrim armors will continue to work





This mod requires that textures from either CBBE Curvy or CBBE Slim be installed (ie, install CBBE first!). Note, both texture options are compatible with all armor options in this mod.




Manual: For the base CBBE bodies.
1. Download and install CBBE. Follow the installation instructions there to get the body properly installed.
2. Download the archives from the downloads area.
3. Open the archives you just downloaded with 7zip. You will see three folders (Options, meshes, CalienteTools), several images, and a .txt file.
4. Click on/select the folder 'meshes', and extract it to your C:/.../Skyrim/Data folder. You now have the armours for the 'Curvy' body installed.
5. (Optional) If you use the Slim or Vanilla body, go into the 'Options' folder. You will see two folders, 'calArmorVanilla' and 'calArmorSlim'. If you use the Slim body, go into 'calArmorSlim', and extract the 'meshes' file there into your C:/.../Skyrim/Data folder. If you use Vanilla, go into 'calArmorVanilla', and extract that 'meshes' folder into the same place.

Manual: For the BodySlide CBBE bodies.
1. Download the CBBE body, and the BodySlide utility in the Optional area. To find it quickly, it is suggested to install the CalienteTools folder it is part of in your C:/.../Skyrim/Data folder. Follow the given instructions on that mod to install or create the CBBE body of your choice. If you make a BodySlide body, to get the armour the same shape, it is suggested to take a screenshot once you have the bodies you are happy with so you can match the sliders up.
2. Download the archives from the download area. Open each one with 7zip, and you will see three folders, several images, and a .txt file. Extract the folder called CalienteTools to where you extracted the previous 'CalienteTools'/BodySlide folder to.
3. Go to where you extracted CalienteTools/BodySlide, and find the BodySlide.exe. Doubleclick on it to open it.
4. Change 'Outfit/Body' to one of the armours on the list. The top one is 'calArmor - Forsworn', so you can just use that. Change 'Preset' to make things easier for you if you like. Next, set up the sliders as you wish them to be. If you took a screenshot of the body you made, this should be easy enough.
5. Click 'Save Preset'.
6. Choose a name for the preset in the dialog that appears.
7. Select 'CalienteArmor' from the list of groups in the same dialog.
8. Click OK and choose a file name to save the preset. Make sure you save the file in the Bodyslide/SliderPresets folder, or bodyslide won't be able to find your preset file.
9. With your new preset selected in the preset drop down box, click "BatchBuild". You'll be prompted to confirm the action and all armors will be created.
WARNING: doing this will overwrite all of the above armor files without further warning. Be careful if you have existing armor mods or shapes you wish to preserve.
10. Follow steps 4 to 9 again, but replace 'calArmor - Forsworn' with one of the clothing options, such as 'CalClothes - FarmClothes01', and when you go to save the preset, check the box called 'CalienteClothes'. Once you have gone through all the steps, all the clothes in the pack should be included.




- You must have CBBE body textures installed or the visible skin will look strange.
- This package does NOT include any textures, and thus is compatible with any vanilla armour/clothing retexture mod.
- This package does not include the BodySlide tool itself, you must download that from the CBBE mod page.
- You can configure each armor to be an entirely different shape.
- While fully BodySlide compatible, these armors are NOT configured to work with BBP.
- Recommended retexture mods:
Improved NPC Clothing by BaronDavid
Hvergelmirs Armor Retexture by lthot
2X Clothing Re-Mix by Kobayashi345
Elaborate Textiles by MissObsidienne



Q1: When is the next pack coming out?
A: When it's done. Caliente is working on these meshes on her own, and as such, it takes some time to do everything correctly. Not only is she making the meshes for the three base bodies, she is also adding support for all the sliders in BodySlide, each of which adds 2-3 hours per slider per outfit. She is also fixing various vanilla armour/clothing issues (such as clipping and misplaced UVs) as she goes, all while doing 'real life' things.



Q2: Will X Outfit be worked on at some point?
A: If it's in the vanilla game, yes.



Q3: Can I use X Retexture Mod with this?
A: Given Caliente doesn't change the UVs of the armour/clothing pieces, if you can use the retexture mod with vanilla outfits, you can use them with these meshes. There are a few recommended retexture mods found in the Notes section.



Q4: What order can we expect the outfits to be done?
A: The first pack was the Bandit pack, and contained various light armours. The second pack was the Townsperson pack, and contained the outfits worn by 'common' people. The third pack was be the Soldier pack, and contains numerous heavy armours, as well as perhaps one or two light armours found in the Legion and Stormcloaks.
Next up is the Mage Pack (robes!), and then the Rogue Pack (Dark Brotherhood/Thieves Guild). This is all we can be sure of right now. End game/high level armours (Daedric, Glass, Dragonbone/dragonscale etc.), noble clothes (fine/Jarl outfits etc.) and unique outfits (Saviour's Hide, Nocturnal Robes etc.) will come at a later date. Dawnguard outfits are also planned at some point.



Q5: Can you make these work with BBP?
A: Only if someone knows how to make it work with BodySlide with no clipping. Until then, it's not going to happen.



- Correct any issues that are found (clipping/weighting/whatnot)
- Additional skyrim vanilla armors will be available soon!



Version 2.1.0[/color]
Various fixes.
Beggar and Blacksmith outfits added.


Version 2.0.1
Fixed errors with Townsperson pack.
Packs available as one file.



Version 2.0
Eleven new clothes and updated BodySlide data.



Version 1.0
Release. Nine converted armors and their associated BodySlide slider data.