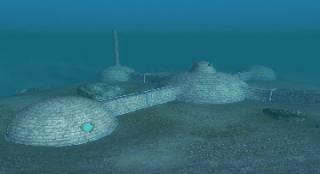 Views: 2,411
1.1
Phitt
==Bravil Sea Domes v1.1==

Attention! If you currently have v1.0 of this mod installed please read the installation instructions carefully!

Bravil Sea Domes is an underwater home mostly made of new meshes. It is small-medium sized and more about atmosphere than about functionality, although there are enough display cases and safe storage possibilities.

Here is what you will find inside (you will need to upgrade to get all of it):

- a main hall with display cases, a pool and four rotating waterfalls
- a dining room with a crystal chandelier
- a living room with a chess set, a fireplace and some other stuff
- a bedroom with a four-poster bed
- a basement with an elevator and lots of storage space
- a faked 'real' view through the windows

The house has a base price of 10000 and you are able to buy 7 upgrades for it that have a base price of 7500 altogether.

You can buy the house and the upgrades from Nilawen at 'The Fair Deal' in Bravil. A quest and map marker will appear once you've bought the house. It is located directly east of Bravil on the other side of the lake.



Installation
If you have v1.0 of this mod installed and have any valuable objects stored in the Sea Domes please do the following:

1. Load your latest savegame and remove all valuable items from the domes. Exit the house and save.

2. Uncheck the 'BravilSeaDomes.esp', load the game you just saved and save again.

3. Extract v1.1 of the mod into your OblivionData folder and check the mod in 'data files', just like described below.

4. Load your savegame and go to the 'Fair Deal'. You must buy the domes and furniture again. Use the console (open it with the tilde key) to get the money needed (no cheating since you already paid for it). The command is 'player.additem f xxx' where 'xxx' is the amount of money.

If you don't have v1.0 installed do this:

Extract the content of the archive into your OblivionData folder. If you use 'Alive Waters' extract the content of the 'AliveWatersTextures' folder into your OblivionData folder AFTERWARDS.



Changelog
v1.1

- added basement
- added globe
- fixed dome meshes (got rid of ugly seams that showed up under certain light conditions)
- updated tangent spaces for better normal map effect
- lever and wheel for waterfall and chandelier animate now when activated
- fixed walking sound for large dome floor (wood instead of stone)
- packed TriStrips collision for better performance
- chessboard figures won't be messed up anymore on second visit
- no hopping when walking over transitions between domes

v1.0

Initial release


==Bugs, Incompatibilities==

Hopefully none



Credits
People at ORE forum for making suggestions on how to improve the interior design and betatesting.



Permission
You are allowed to use any of the meshes included in this mod in your own (non-commercial) mods as long as you give me credits for it. You are also allowed to reupload or translate the mod as long as I'm mentioned as the author of the mod and as long as you don't change more than necessary for translation (aka text). Would be nice if you'd drop me a pm at the official elder scrolls forums (username: Phitt), but you don't have to.