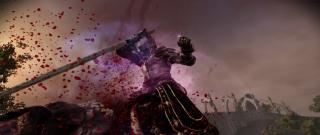 Views: 10,044
1.2
Krayzie
UPDATE 2: Because my support for this Armor is Limited, Anyone that wishes is allowed use the database and use any of the scripts used for their own Mods, or Re-release the armor as long as they can continue to update it, as long as credit is given you are allowed to do anything with this armor if you wish.

UPDATED: I've No longer have the Toolset nor the Tools Installed to keep updating my Addins, However I will be
releasing my Black Templar's Armor Database, Though I will not be-able to help with support but feel free
to ask in the comments and hopefully someone will Be-able to help.

I would like for people to look over the Database and get the basic Idea of my Addin, Edit it and/or Release some of their own Armors.

1. Make a New Module in the ToolSet, (if you don't know how follow werikk's guide http://social.bioware.com/5339/blog/576/
2. In the ToolSet open the "Builder to Builder Load" (Tools -> Builder -> Builder to Builder Load.
3. Select the .dadbdata file that you've Downloaded from me.
4. Click "Check All" just in case, Also Check the "Create New" under the StringIDs, And Click OK.

The Armor & Scripts should appear on the Right Side of the ToolSet, This is as far as I go for support but like I said feel free to ask, I'll try to answer If I remember how to do something from the question asked.

==================
Link too the mod on BioWare Social Network.
http://social.bioware.com/project/1056/#details

==================
Description:
==================

Custom Templar ArmorSet, Reskined Black/Gunmetal, Silver Trim,
Helmet stats similar too 'Bergen's Honor', ArmorSet stats similar too 'Blood Dragon Plate'.

=================
Details:
=================

This armor reskin might not be the most original/creative, defiantly the name. :P But It works.
The ArmorSet Stats are similar too the Dragon blood Plat, but because this armor is made of dragonbone the Base stats is alittle higher.
The Reskin texture is standalone, meaning it wont replace the Templars default texture both will be available in-game.

Black Templar Armor is available too all the Default playable Races M/F Dwarf; Elf; Human, & Sten should be able to use it as well.
Yes, the Icons used for the Armors is Cheap, I didn't really but much time into making the Icons, I'll be sure too update them at a later time. :P

Feel Free to Add your own Images of the armor. :D
Please Don't Email me for a Armor Requests. I made a Tutorial for that. thank you.:)

In-Order too use the +50 health -10% fatigue Stats on the Chest you will have to have the Blood Dragon Plate Addin enabled.

-

I'd rather not release multiple versions of the same armor stats wise, How ever if you wish to change the stats you can try a Addin: The Winter Forge - http://social.bioware.com/project/672/

It allows you to change stats on Items In-Game. Thanks for the Link guys.

-
For people that are having problems with the Armor I'm sorry but there's not much I can do, you gotta realize I never planned to do anything big in the first place I only wanted to share this armor and did a few requests, I don't have the time Like I used too to be able to do any Real mods, Even though this is just a simple retext I'm shocked as too how big it's become. Thank you for your support everyone. :D

=================
Installation
=================

Install with DAupdater,

Found in:
C:\...\...\Dragon Age Origins\bin_ship\daupdater.exe

Drag & Drop "Black_Templar_Arm.dazip" into daupdater, Select the addin and Click the [Install Selected].

=================
Un-Installation:
=================

Too uninstall Delete the "Black_Templar_Arm" folder in the Addins Folder:

XP:
C:\Documents and Settings\[Name]\My Documents\BioWare\Dragon Age\AddIns

Vista/Win7:
C:\Users\[Name]\Documents\BioWare\Dragon Age\AddIns

=================
History:
=================

11/29/2009 - UPDATED: v1.2 - More Bug fixes, LOD Model/Textures Issue has been Fixed, Gauntlet is now Spelled Right, Added a Separate download, One for the armor to spawn in your Bag, Other for the Armor to be attainable through Bodahn in the party camp, Blood Dragon Plate needs to be enabled In-Order too use the +50 health -10% fatigue Stats on the Chest, Physical Resist scaled back too +20 on the Helmet.

11/28/2009 - UPDATED: v1.1 - Fixed some bugs, Boots now have a model, BonusSet changed to Set 30: -10% Fatigue +5 Defense, Gauntlets Tint file no longer overrides the Default.

11/27/2009 - Release.

==================
Known Issues:
==================

None anymore that I'm aware of. :)

=================
Contact:
=================

Krayzie333@gmail.com

=================
Thanks:
=================

Thanks to Bioware for creating Dragon Age: Origins.
Thanks to InsanitySorrow for his ReadMe Generator this file is based on.
Thanks to Adinos, For DATools.
Thanks to weriKK, For the CustomItem's Guide.
Thanks to AND04.
Thanks to jaideep & Blackcourt, For a Link.

=================
Tools Used:
=================

Dragon Age Tool Set
Dragon Age ReadMe Generator
DATools

=================
Recommended Addins:
=================

The Winter Forge - http://social.bioware.com/project/672/
Camp Storage Chest - http://social.bioware.com/project/463/
Character Respecialization - http://social.bioware.com/project/469/

=================
Tutorial:
=================

I made a Tutorial of how I made this. The tutorial isn't the best made on but it works.

http://social.bioware.com/11689/blog/1120/

=================
Licensing/Legal:
=================

You may use this as you wish but you must credit me for my work.
Please do not re-host this file without my explicit permission.