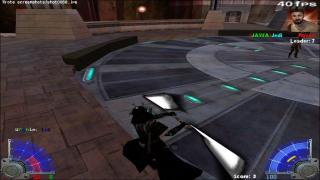 Views: 7,697
1.0
KoH Shadow
***********************************
Read me
***********************************
TITLE: New JA+ Black Saber
AUTHOR: KoH_Shadow
E-MAIL: darthwampa@aim.com


FILENAME: newblacksaber.pk3
FILESIZE: 129 kb
DATE RELEASED: Merch, 4 2008

CREDITS to: just my self since this is a small mod
INSTALLATION INSTRUCTIONS:
Place the newblacksaber.PK3 file in you C:
gamedata/japlus directory. do not place it in your gamedata/base folder

DESCRIPTION: A black saber with a white core that replaces that black saber in JA+.
BUGS:
none
COMMENTS:
Download and enjoy. note that you must have JA+ http://modsreloaded.com/ja-plus installed in order to use this mod.

THIS MODIFICATION IS NOT MADE, DISTRIBUTED, OR SUPPORTED BY ACTIVISION, RAVEN, OR LUCASARTS ENTERTAINMENT COMPANY LLC. ELEMENTS TM & LUCASARTS ENTERTAINMENT COMPANY LLC AND/OR ITS LICENSORS.