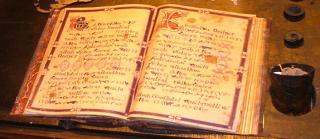 Views: 2,117
1.6
triratna homaredou
WELCOME TO Quality Magic SFX.
-----------------------------

Update 1.6:
Add 3 New file.

Two new Adorable Restoration school for priest, cleric, healer, crusader of the nine. A short Choir of Angels as you cast Healing spell upon yourself,. or if you are faithful and heals at church, the angels will choir 'Amen' it works like symphony when you have healer companion or when you heal others.

The third sound is 'A natural double rolling thunder. for shock spell. 6 second in Bombing crack - 5 second rumbling echo. (this is optional however if you don't like it just delete the Spl_Shock_hit.WAV. the game with revert to it's original hit sound)

Update 1.2:
add 1 new file for Mysticism soul trap spell.

(NEW) Mysticism Soul Trap:
Now whenever you decide to cast Soul trap, You can hear several ghostly moans and wails as they are unwillingly or willingly dragged, trapped and absorbed to your enchantment. If miss and hit a wall that object became haunted instead, Just right on the spot where your soul trap hit. the voice persist until the enchantment last (7 or 8 second approx) then the souls fled... until you decide to bind them on someone or something again. :D Cool huh? I'm not joking. Check the update and don't forget to endorse! or i'll trap your soul to oblivion. lol.

Update 1.0:
Add 2 new files for Restoration and Mysticism School. Self cast.

Version. 0.6 Description:
Here you'll find a better sound to replace oblivion's default magicka cast for every magic discipline with their epic one. I believe everyone find that playing as magician can be practically boring to compare with swordplay and tactical bowyer.

So here it is. Something to remedy and liven up oblivion's magic.
----------
Each spell SFX are narrated you'll notice their significantly on the game.


Destruction.
Fire:
- Upon cast, a noticeable Heavy jet of fire ball.
- Heighted and Weighted 2 Explosion on hit and core impact.

Lightning:
- upon cast, start with sparkle - build Plasma surge - then discharge VERY traumatic slap.

Ice- Drain -Weakness:
Now with violent froze, spray and shattering impact. True diamond dust Sound for Cyromancer.

-------------------------------------
(NEW) Restoration:
- The heaven shed her tear and give blessing to spellcaster first before he turn it into form of healing, cure and fortification. If you have CM favorite companions, it'll sound like a blessing rain. (heal)

(NEW) Mysticism:
Mysticism, mind clarity sound effect and whisper of the spirits. Upon casting, Now you will hear word whisper and Foretold warnings, both cryptic and prophetic. Pretty much this are Dagail stuff. Contrast to illusion, Mysticism reveals truth and true natures in spirit. (detect life- reflection)

Conjuration:
- Blasphemous dread Whisper sound respond our call as we summon soul for the living dead and lesser demonic minion.
- Upon an Exorcism or a certain heretic worship, You disturbed or unleash terrible thing. It cry out of a crushing heavy breath of unearthly grief or relief. (Doomstone worship or turn undeads)

Alteration:
- Sound of Magical Re-construction particle of a material. Ended with fully transformed and altered physical mass regardless the form. upon cast. (locks, water walks)
- Sound of Magical De-construction particle of a material. Ended with Crumbled echo and crack. Upon hit. (burden)

Illusion:
- Mysterious visage sound, Encourage hypnotic disbelieve to your surroundings as if it muffled 2 or 3 reality. upon cast. (light or invisiblity or chameleons)
- Cast on victim, harmless ultrasonic injection, mind pierces. for whispering charm, command, suggestion, and unhealthy dose of madness.

If the description isn't enough, Download the file and try listen at them carefully..

INSTALL:
-Extract to data folder.

Thank you for using Quality magic SFX. Please endorse if you like.