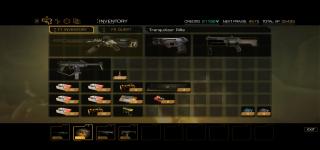 Views: 11,498
1.1
DXHR
This mod aims to improve the inventory item stacking functionality of the base game - it doesn't change anything else.


Updated stacks
1.) all ammo now stacks to 255
2.) all consumables now stack to 255
3.) all mines now stack to 255
4.) AUD's and R-DED now stack to 255


Items that didn't stack
5.) all grenades now stack, up to 255
6.) all alchohol now stacks, up to 255
7.) all weapon mods now stack, up to 255



Installation
To install the mod, just back up and then replace your existing patch0.000 in the Deus Ex install directory with the patch0.000 included in this archive. Deus Ex is usually installed to: C:Program FilesSteamsteamappscommondeus ex - human revolution

To get the mod to affect an existing save, just drop all of your present inventory and pick it back up - anything that can stack will do so.
To get the mod to affect a new game, just start the game and the mod will kick in automatically.

If Eidos patches the game and changes the patch0.000 file, the mod will stop working - this won't affect your present ammo stacks, but anything new will start a new stack, and if you drop a "superstack" and pick it back up, it will split into normal stacks. When Eidos patches the game, I will endeavour to update this mod to reflect Eidos' changes and still retain superstack functionality.