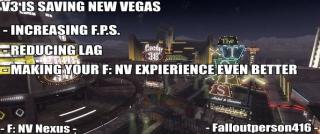 Views: 46,145
3.0
Falloutperson416
Better Game Performance - Falloutperson416


If this mod helps you, please rate it!

Kudos to those who upload images!


Description:
This is a remake of my Better Game Performance mod for Fallout 3.
It was listed on the Fallout 3 Master List, which is basicaly a list of must - have mods.

This removes a couple unused items from the game to create a better performance. To better expain what I mean by "unused" I mean literaly unused. For example, the GECK showed the items bieng used in the world 0 times, with 0 references, and no forms of quests using it. So, completely unused.

This DOES NOT REMOVE any items that you might use in some shape or form. One rock type was removed. It was used thousands of times. It was a small cave rock. Useless.
The rock was NOT used to cover up landscape clipping.

This removes some objects that the game does not use in any way. By doing this, the game has less data to process, and a better performance is created. (More FPS & less lag)
Although my computer is very powerfull, the mod still helps it out. I go crazy if I can get my hands on something that makes something better.
V1:
emoves unused items, and 1 rock type. It was a cave rock. Useless.
V2:
Fixes issues that V1 carried. Creates a better game performance, by increasing frames per second and reducing lag.
V3:
Creates an even better game performance than V2 presented. No visible items have been removed, except for the cave rock.


FAQ:
1. Q: I have heard that this mod causes holes in the ground. Does it?

A: No, it doesnt. The game does. People who have been using the consoles (Xbox 360, PS3) Have complained about magical holes that they just fall through.

2: Q: How exactly does this mod really work?

A: Every time you load the game, every object that has been built is bieng loaded. Now, even if some objects arent used at all in the game, they are still loaded. So, this mod removes the items from the load, creating a better performance. There have been countless numbers of unused objects removed so far.

3: Q: How can I test the mod to see if it really works?

A: Well, read the comments. You can see that tuns of people love the mod. If that still doesnt do it for you, download fraps and launch the game. It will tell you how many FPS you have. Just compare the two frame rates. (1 with the mod active, 1 with the mod unactive)


Important Information:
Some people have been saying that the mod has been causing a common load fail. The bug I am refering to, is the one where you just fall through the floor out of nowhere. Here's the deal: You can fix it by simply fast traveling far away, and then going back. There is no possible way this mod could cause a fail, either. My reasons bieng, the mod doesnt add anything. No meshes or textures have been messed with. There is absoloutly nothing that could possibly cause the floor to not load, exept for the game itself. This bug has been talked about on the forums, images have been uploaded, and the answer that is drawn: THE GAME! So, if your going to complain, blaim it on the game, not my mod.


Installation:
1. Open the 7zip file with a program of your choice (7zip for ex.)

2. Extract the Better Game Performance file to your data folder. (Looks something like this: (C:) ProgramFiles(86) > Steam > SteamApps > Common > Fallout New Vegas > Data) Some peoples data folder might be located elsewhere, but this path is pretty common.

3. Activate the BetterGamePerformanceV3 file in your FNV Launcher, or through the FNV MM.


Uninstall:
Im not going to tell you... you must NEVER uninstall this mod...

(Just remove the file from your data folder :D)


Requirements:
No other mods or configuration settings are required to use this mod.

1. Better Game Performance
The logo for the mod. (Thats President Kimball of the NCR made to look like a Ballerina.)

2. V3 IS SAVING NEW VEGAS
V3 advertisment.

3. V2 KICKS ASS
V2 advertisment.

4. Novac - No Fail
There was a comment that suggested that my mod might have caused Novac to screw up, but here is some living proof that it is the game that is screwing with you, not my mod.

5.Primm - No Fail
There was a comment "stating" that the mod messed up Primm. Well, heres living proof that it doesnt.


Permissions
Use this file anywhere, anyhow, and in anyway you want to. Just give me some credit for my work.

My Other Fallout: New Vegas & Fallout 3 Mods:

1. New Vegas Restoration
This mod cleans up the crap that sin city contains. You would think that the last standing city in the world wouldnt look like trash. Well, that dream is now a reality.

2. Better Game Performance
The Better Game Performance mod here is this mod for Fallout 3.

3. Brotherhoods Wasteland
Adds many different Brotherhood patrols to the Wasteland. Used for Fallout 3.


Notes:
- I decided to spruce up the page, with all of these colors and sizes. Not to bad, huh?
- This file has been listed as a HOTFILE! Im really happy about that :)
- I am really happy with the results so far! The Better Game Performance mod designed for Fallout 3 did really well, but I never expected this one to match it.
- If you want proof that this mod works, download FRAPS and see for yourself!
- Common everybody! 11,000 downloads and 160 endorsements? Click that endorsement button! It only takes a couple of minutes! So click it!
- [For Craigster] If you are reading this, im sorry I went ape on you back there. Shouldnt have done that :(

Best of luck!

- Falloutperson416 -