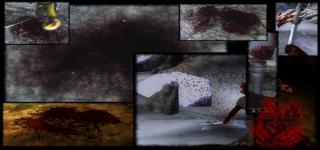 Views: 4,561
1.0
Evandar
Description
=========
This mod adds more blood, and makes it look better.

Oblivion.ini and BloodTime plugin
=========================
If you want even more blood, you can change some settings in your Oblivion.ini file.

Open the file with Notepad (and remember to make a backup of the file before editing), find the following lines, and change the values to what you want them to be (it's easier to find them by using Ctrl+F):

iMaxDecalsPerFrame - This is the amount of decals (or blood splatter) you will see. Remember that if you set it too high it will reduce FPS.

fDecalLifetime - This is the time blood splatter stays on the ground, characters and so on.

fMinBloodDamage - This is the minimum amount of damage you must inflict to make blood appear(setting it to 0 will make blood appear everytime you hit someone).

bDecalsOnSkinnedGeometry - If this is set to 1 blood will appear on skin.

Note that fDecalLifetime is reset everytime you change the graphics settings, because of that I included a plugin made by Skycaptain (to use the plugin you need OBSE - http://obse.silverlock.org/).

If you want to CHANGE THE VALUE, type in the console:

'set bloodTime to x'

where "x" is the amount of seconds you want the blood to stay.

You need to press "ESC" to visit the "pause menu" to make the new setting activate.
Install
=====
1. Copy files to (install folder)OblivionData
If you will use the BloodTime plugin:
2. Start Oblivion Launcher, click 'Data Files', place a checkmark beside the SkycaptainsBloodTime.esp file.
Uninstall
=======
1. Start Oblivion Launcher, click Data Files, uncheck the SkycaptainsBloodTime.esp file.
2. Delete the files/folders associated with the mod.

OblivionDataMeshesEffectsBloodspray.nif
OblivionDataTexturesDungeonsMiscBloodsplatter01.dds
OblivionDataTexturesDungeonsMiscBloodsplatter01_n.dds
OblivionDataTexturesDungeonsMiscBloodstain01.dds
OblivionDataTexturesDungeonsMiscBloodstain01_n.dds
OblivionDataTexturesDungeonsMiscBloodstain02.dds
OblivionDataTexturesDungeonsMiscBloodstain02_n.dds
OblivionDataTexturesEffectsBlooddecal.dds
OblivionDataTexturesEffectsLichblooddecal.dds
OblivionDataTexturesEffectsBlood01.dds
OblivionDataTexturesEffectsBlood02.dds
OblivionDataTexturesEffectsBlood03.dds


Incompatibility
===========
This mod will replace any of the file mentioned in the Uninstall section above.

History
======
1.0, 14/5/2009 - Initial release.
Contact
======
You can find me on Mods Reloaded and the BGS Forums as 'Evandar'
You can find me on TESNexus as 'xxXEvandarXxx'
Credits
======
Thanks to Bethesda for creating Oblivion.
Thanks to Skycaptain for the BloodTime plugin - http://www.tesnexus.com/downloads/file.php?id=19665
Thanks to LHammonds for the Readme Generator this file was based on.

Tools Used
=========
7-Zip - http://www.7-zip.org/
DDS Converter - http://www.tesnexus.com/downloads/file.php?id=8698
GIMP - http://www.gimp.org/
Readme Generator - http://lhammonds.game-host.org/obmm/tools_readme_generator1.asp
Licensing/Legal
============
You must contact me and obtain my permission before re-packaging any part of
this mod, except for the BloodTime plugin, which is Skycaptains stuff.