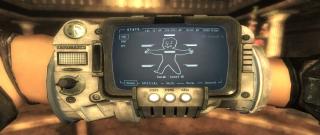 Views: 3,596
1.0
wogz187
Why not chip off all that rusted, dirty paint?

Designed this to be an even balance between 'Too new and perfect' - and - 'Too busted-ass'

This high-resolution custom texture is sampled at 2048x2048 and includes a re-worked (also high-res) Normal map. The included Screenglare.dds texture can be used to turn your Pipboy's background a nice blue color.

There are two files to choose from: A Silver version and a Dark version which is pretty cool, too.

To compare the two versions, I suggest you open the Silver 1 screenshot, and Dark 1 screenshot in new tabs. Then, you can toggle back and forth to see the differences.

For more details click 'View ReadMe' in the options above.

Have fun!



Credits
Thanks to Bethesda for the game and G.E.C.K.
Thanks to you, the modders and players, for making a good
thing better!