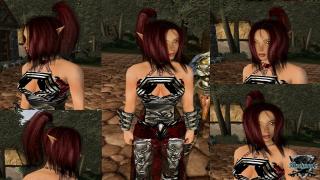 Views: 1,408
1.0
Mandamus
This mod adds a new hairstyle for female wood elves, available in eight colors (blond, red, brown, black...). I made the mesh myself entirely from scratch, with the exception of the ears. The texture is based on a photo that I took of a wig.

This hairstyle can be chosen in the race selection menu with a new game.
If you want to use it with your current game, use this code in the console :
"enableracemenu".

The mod was cleaned with TESAME.