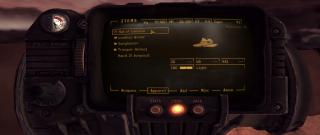 Views: 19,968
1.0
Foxtrot
Alternative Console Access
» Version 1.0

Note: This modification requires the New Vegas Script Extender.

For many people, the keys that are supposed to be used in New Vegas to access the console do not work (due to driver problems or sometimes for unknown reasons). However, with New Vegas' current state of instability and with the vast amount of fun stuff you can do with the console, this had to be fixed.

You can now use CTRL + ENTER to access the console. You can use the left CTRL key or the right one, it does not matter. You can then use the same combination of keys to close the console. If for some reason you cannot or do not want to use this shortuct, you can use the 'Hat of Console'. The hat will be added to you upon loading the mod.

Simply equip the hat and the console will appear. I recommend setting a hotkey to the hat and then equipping it with the Pip-Boy down. To close the console after you finish, open the pause menu and then close it again. The hat will not remove your current headwear when equipped.

I hope this helps you out greatly and that you give it your endorsement.