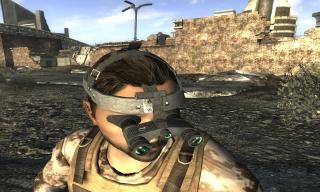 Views: 3,661
beta 02
AlexScorpion
Name: Animated Nightvision Goggles
Author: Alex Scorpion
Version: 1.0
Date: 5-11-2010
Category: Models and Textures


Description
A real working night vision goggles with animations and sounds .


Details:
This mods adds a 2 NVG goggles .. one normal and one for helmets ... you can buy them from Gun

runners near the strip.
Don't wear two versions at the same time... lol.
THE NVG REQUIRES POWER CELLs and batteries TO FUNCTION (LASER PISTOLS AMMO AND THE other ENERGY AMMO

plus some other energy sources). Press "N" to activate and numpad + and - to choose the color and brightness.


Requirements:
Fallout New Vegas patch 2
This mod has been created with NVSE http://modsreloaded.com/nvse
NVMM http://modsreloaded.com/nvmm


Install
1. Extract the files from the archive.
2. Copy files to (install folder)Fallout New VegasData
CHOOSE YOUR ESP.
3. Start NVMM Launcher, place a checkmark beside the .esp file.
4.START THE GAME WITH NVSE LOADER AND NOT WITH NVMM OR GAME'S DEFAULT LAUNCHER


Un-Install:
1. Start FOMM, uncheck the .esp file.
2. Delete the files/folders associated with the mod.


Compatibility:
No compatiblity issues so far.


Bugs/Issues:
I haven't created first person anims yet.


History:
1.0 5-11-2010 - Initial Release
1.1 6-11-2010 - removed the double entries
1.2 6-11-2010 - New visual effects and new sounds


Contact:
You can find me on the official Bethesda forums and Nexus forums as AlexScorpion


Recommended Mods:
None


Credits:
thanks to NVSE team for the NVSE
Thanks to knivesomara for the new sound effect
Thanks to Niftools Team for the plugins
thanks to Mr.Slackpants for the NVG script.
Thanks to Saiden Storm for explaining the proper animation import from 3ds max to fallout and some


Other tips
Thanks to Cipscis for creating a delay timer.
thanks to Skykappa for the usefull tips.
Thanks to Bethesda for creating Fallout NV
Thanks to LHammonds for ReadMe Generator this readme is based on.


Tools Used:
GECK
3D Studio Max - http://www.autodesk.com/3dsmax
NIFSkope - http://niftools.sourceforge.net/wiki/NifSkope
Photoshop - http://www.adobe.com/products/photoshop/
Conformulator


License/Legal:
You must contact me and obtain my permission before re-packaging any part of this mod. If I do not respond within 2 weeks, feel free to do whatever you like with this mod.