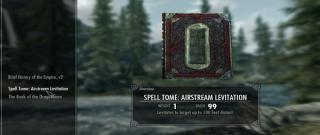 Views: 7,186
1.4
Phoenixn aka Observe
This Spell let's you levitate up to 100 feet distance

The Spell Tome will appear in your inventory (in Books section) when the mod first run.

Note: Some people would prefer requirement to purchase from Merchants, others would like a Quest to obtain the spell. Many people just want the spell without having to bother obtaining it. I decided to simply provide it in inventory; realizing this will not suit everyone.

Using a "lobber" projectile incorporated into a spell as the levitation target, this method overcomes several problems encountered previously with Skyrim "levitation" and provides a "game friendly" experience.

Additionally, this technique prevents levitating into doors and walls and getting stuck (something that happened with my previous attempts).

Furthermore, the "lobber" limits how far you can "lob" upwards to a reasonable level (limits altitude). You can lob downward, but you will suffer damage as if you fell that distance.

I've also limited target range to 100 feet. This means you can cross small to medium sized rivers etc. As mentioned, you cannot target 100 feet high because of lobber limits, but you can traverse 100 feet in horizontal direction.

Please keep in mind this spell does have its limits. Sometimes it won't put you where you want to go because it has built-in prevention for not going where the game really doesn't want you to be.

I hope this provides a fun and valuable addition to the Dovahkiin spell-box!