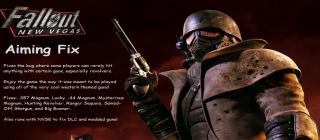 Views: 5,057
2.0
drakeelvin@yahoo.com
Fallout: New Vegas
Aiming Fix
By drakeelvin@yahoo.com
Version 2.0
18-Apr-2012


README


Fixes the bug where some players can rarely hit anything with certain guns, especially revolvers.

Enjoy the game the way it was meant to be played using all of the very cool western themed guns!

Fixes: .357 Magnum, Lucky, .44 Magnum, Mysterious Magnum, Hunting Revolver, Ranger Sequoia, Sawed-Off Shotgun, and Big Boomer.

Also runs with NVSE to fix DLC and modded guns, such as the Dead Money Police Revolver for example.


With NVSE (New Vegas Script Extender) you get two additional benefits:

(a) Other guns that use the affected attack animations are fixed, including modded guns.

(b) Your equiped weapon is always monitored. Add gun mods later and they'll get fixed if they use these animations.


INSTALLATION


Requires Fallout: New Vegas 1.4

Optional: NVSE New Vegas Script Extender (http://nvse.silverlock.org)

Extract files to your Data folder and enable the plugin.


The plugin auto-detects NVSE and runs with or without it.

You can also install / uninstall NVSE partway through a game and the plugin will switch modes.


The vanilla guns listed above are updated directly in GECK so this plugin WILL CONFLICT with mods that also change them.

If you have a mod conflict, here are a couple of options:

(a) With NVSE, load AimingFix.esp FIRST: this fixes aiming for the vanilla guns but does not undo any other changes made to them by other mods.

(b) Without NVSE, load AimingFix.esp LAST: the vanilla guns will be fixed but changes to them from other mods will be undone.


NOTES


The aiming bug tends to appear on slower systems and thus only affects a small percentage players.

The aiming bug is due to how New Vegas processes certain attack animations.

For this reason you may observe that the attack animation of affected guns changes.


When NVSE fixes the aim of a gun you will see a calibration message.

You don't see calibration messages for vanilla guns listed because they are already fixed by direct editing. (Unless other mods changed them.)

NVSE calibration takes up to a few seconds the first time you equip a gun, but then it is good for the game session.

NVSE calibration does not persist in savegames: you'll see it again if you save, quit and continue your game later.


THANKS


Ilanaisatree and Funktionstest for your valuable input and testing.


HISTORY

2012.02.04 - Merged the separate vanilla and NVSE plugins into one plugin.
2012.02.28 - Added the Dead Money Police Revolver attack animation to NVSE checklist.
2012.04.18 - Updated the Readme.