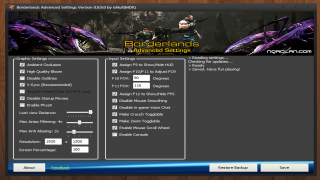 Views: 46,469
0.99
Null
Borderlands Advanced Settings Release 0.9.9


Change Log
03/01/2010 - v0.9.9
- Improved first time startup routine (nrnoble)
- Removed U-PnP
- Some minor bug fixes

2/3/2010 - 0.9.8
- Fixed crouch toggle.
- UI Update
- More error handling improvements

1/13/2010 - 0.9.7
- Added crouch toggle
- General improvement to error prompts
- Improved error handling for FOV, Screen Percentage, and disable startup movies


New Features
- Loot view distance
- PhysX *Experimental
- Remove frame rate limit
- Remove outlines
- Show/hide HUD
- Show/hide FPS
- Loading screen
- Lite stand-alone (No installation required)
- Auto update


Hotfix release:
- Fix crash on startup when Aniso filtering was off.
- Add crash logging

12/25/2009 - 0.9.3
Initial Public Release


Features
- Tweak game settings outside the game
- UPnP port forward setup script with error handling
- Backup/restore
- Custom INI parser with error handling


Toggle engine features:
- Ambient Occlusion
- High Quality Bloom
- V-Sync
- DX10/Physx *Experimental
- Startup movies bypass
- Adjust FOV
- Mouse smoothing
- In-game Voice Chat
- Console
- Zoom toggle
- Scroll Wheel


Requirements:
- Windows XP***/Vista/7/2008
*** UPnP under Windows XP requires UPnP to be enabled.
Follow the instructions here: http://support.microsoft.com/kb/941206
- .Net 3.5 Runtimes Link
- Borderlands Installation

The tweaks are based on various community posts so hats off to the respective people that found the tweaks. Please report any bugs or issues to me here.
Cheers!