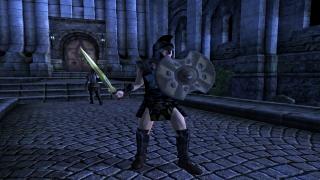 Views: 8,010
1.7
hex ratt
Well, after watching "Troy" I wanted try my hand at making Achilles gear. I tried to make it as close to one in the movie as possible.


Mod information
-Adds Achilles armor to the game, includes sword, spear and shield, plus shield display on back.
-Armorsuit is enchanted light armor:fortify endurance+8, speed+8, agility+8, block+8, blade+8. It's
stats are similiar to darkbrothersuit; I just changed the enchants to match warrior rather than assassin.
-It is part of quest reward for "Forlorn Watchman" stashed in Grantham's secret treasure chest. I cannot give it's location because it is a spoiler. Do the quest and it will lead you to it.



Optional Data
-Be sure to make a copy of your _male folder so you won't lose any data before you make any changes.
-Contains animation replacer for twohand weapons to make using the spear more realistic.
If you want to use it and decide you don't like it,just go into the DataMeshesCharacters_male
directory folder and delete the .nif files or just replace _male folder with your original copy.

Possible conflicts: mods that alter Grantham's Treasure chest.