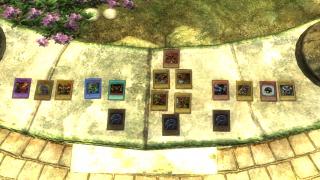 Views: 1,422
1.2
penderrin909
Blue eyes white dragon Yugioh card
this adds a blue eyes white dragon yugioh
card to the imperial city talos district. it is sitting on the monument like thing that is around the dragon statue. it is clutter so you cant do anything with it but hold.


Installation
To install just extract and move the textures and mesh
into the correct folder.


Changes/Updates
add enchanments that add certain attributes to you such as more strength and agility and added;

Barrel dragon
black luster
ritual black luster
soldier
celtic
guardian dark magician
flame swordsman
gaia the fierce knight
kuriboh
summoned skull
exodia the forbidden one
left arm of the forbidden one
left leg of the forbidden one
right arm of the forbidden one
right leg of the forbidden one

I realized that the cards were very hard to see so i changed them so you can see them


Contact
DONT DO ANYTHING WITH THIS UNLESS YOU ASK FIRST
MY EMAIL IS Penderrin909[at] aol [dot] com