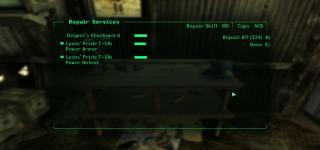 Views: 1,686
1.0
Chrome Hamster
This simple mod adds an option to your workbench to repair your items using your own Repair Skill, but costing caps like a merchant instead of consuming additional items.

This should be particularly useful for those who have spent time raising their Repair skills and who want to fully repair unique weapons like the Firelance without having a
compatible item to destroy in the process.
INSTALLATION:
Copy .ESP to the "\Fallout 3\Data" Folder. Enable via FOMM.

UNINSTALL:
Disable .ESP and delete.

KNOWN ISSUES:
Since this mod relies on changes to the default workbench script, it will not coexist with other mods that add Schematics/Features to the workbench unless you use GECK or
F03Edit to manually combine the various scripting elements.

LEGAL:
Please feel free to use without my prior permission. Please credit me if you include it in your own mod.