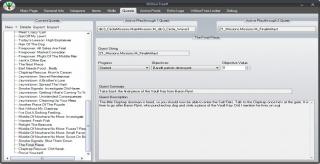 Views: 81,812
2.2.1.275
XanderChaos
WillowTree is a Software Utility used to modify your Borderlands save games. This software was created and is supported by XanderChaos.

A save editor for Borderlands, written in C#. WillowTree# already manipulates nearly every aspect of the save data, but I am looking for other developers to aid in adding features and improving the code.


Opens, edits, and saves Borderlands save files.

Allows easy access to all parts of the save data. This includes quests, weapons, items, echo logs, ammo pools, visited locations, and more.

Works on all platforms (Xbox 360, PS3, and PC).
Borderlands 2
Here is a link to the Save Editor for Borderlands 2

Please remember to rate!