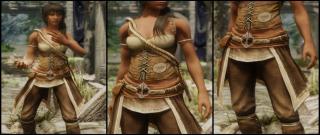 Views: 8,269
1.0
brokefoot
FAQ
What ?
UNP clothing mod for mages.

Where ?
Search behind the College of Winterhold, near the shore and around some rocks n' stuff. See pics for location and what to look for. I advise you check the knapsack first. Read the note, then the journal. After that, check the chest.

How ?
Magicka.

Why ?
Um...

Misfit Mage:

_Bands Dark
_Bands Light
_Trousers Dark
_Trousers Light
_Leggings/Panties Dark
_Leggings/Panties Light
_Pouch
_Pouch Dark
_Pouch Light
_Bodice
_Skirt
_Rope

Misfit Mage - School Spirit:
_Bodice Alteration
_Bodice Conjuration
_Bodice Destruction
_Bodice Illusion
_Bodice Restoration

_Bracers Alteration
_Bracers Conjuration
_Bracers Destruction
_Bracers Illusion
_Bracers Restoration

_Skirt Alteration
_Skirt Conjuration
_Skirt Destruction
_Skirt Illusion
_Skirt Restoration



Patches
German Translation - by Lorina



Usage
_Equip the items. Some of them, all of them. Choice is yours. The clothing is 'modular', meaning you can pick n' choose what to wear.

_There is no footwear for this mod. Couldn't settle for anything. However, the trousers have been partitioned just like the original mage pants (cutting off at the knee). Feel free to mess around with matching up some footwear. I like the foot wraps, but that's me and my hardy adventurer character romping around in the warm weather - thanks to acidzebra's Springtime Overhaul mod ;)

_The trousers or leggings+panties can be equipped. No, you can't separately equip the panties from the stockings. This was intentional. If you know a bit about Nifskope and the Creation Kit, you certainly can break these up even further.



Notes
The UNP form included with this mod (when equipping the bodice models) is a custom hack job by me. Its loosely based off Kurese' "Astaroth" variation. I wanted to see a bust, some cleavage. Not for perversion's sake, but for a more 'supportive' look to the bodice. Mod authors: If you'd like to use my UNP form edits to craft other clothes/armor meshes... feel free ! Just notify me before uploading. I will try my best to check my PM box once a week. So give it a few days if you don't hear from me right away.

Permissions:
Do what you want with the esp file. Just be sure it STAYS ON THE NEXUS. No other sites, please and thank you. And the textures/meshes are locked into this mod. UNPB and BBP conversions are fine, just notify me BEFORE you upload. Same goes for esp alterations. And make a link back to this page, thanks.



Credits/Thanks
_Mr TroubleMaker and Dikr - for the Bouncy Bodice mod. I used portions of the textures as a basis for this mod.
_SydneyB and Dimon - for the Ashara Princess stockings. I used portions of Sydney's textures and also Dimon's original meshes for this mod.
_Anano - for, yet again, the Osare panty mesh. I used my variation from Khantu's Armor set as a basis for this version.
_AsianBoy345 - for the Tera Armor UNP Collection. I used the meshes/textures of one of the sets for the basis of the Misfit Mage bracers.
_Dimon - UNP body form. He started the Rebellion. I'm glad to have helped bring this more natural female body form to its high status.



Special Thanks
Miss Lexi, the most patient online buddy I've ever had the pleasure of communicating with. This mod would not be live if it weren't for her. Do me a favor: if you enjoyed any part of this mod - stop by her profile page and give a kudos point. She deserves it !

Thank you, misslexi, for all you've done to help me through this creative process. And mega thanks for those awesome beta shoots ! Love your pics and love your characters !!!

Also, the mass of you that continually - day after day - commented and endorsed my WIP pics. That's awesome ! You guys n' gals are awesome ! Thank you so much for supporting what I've done. It means a lot to me and I'm glad to have met so many of you.



Lastly
I'm done. Gone. Outta here. Its been really fun meeting all of you. I'm so glad and thankful so many of you enjoyed what I've shared.