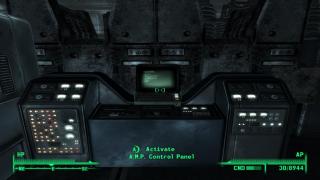 Views: 1,814
3.01
Digicjm
Ever wished you could create your own customized gear? Well now you can with your very own Automated Manufacturing Plant (A.M.P) inside a hidden unmarked vault. Weapon and armor customization is quick and easy with the new point system as you just assign points to the categories you want, no more trying to analyze entire item sets. Vault includes infirmary, lab and bed too along with a short story about the vault's previous resident.

Note: Development is currently paused pending the release of FOSE v2.

UPDATE:
v3.01 Release Notes:
- Added customization for most armors
- Added a new Data Core (Missile Launcher/Fatman)
- Added message to notify when items are completed
- T51b can be repaired w/ brotherhood armor
- Attempted fix for "Dissapearing Items" related to quest.

QUICK GUIDE:
1) Equip one of the items you would like to analyze and go to the Analyzer Terminal in the room accross from the A.M.P Control Console.
2) Open the Analyzer Terminal and select Analyze My Weapon/Armor, MAKE SURE THE WEAPON/ARMOR YOU HAVE EQUIPED IS THE ONE YOU WANT TO ANALYZE AS YOU WILL NOT GET IT BACK.
3) Make sure that there is at least 1 piece of scrap metal in the Scrap Metal Bin (Dumpster) near the A.M.P
4) Equip another item of the same type and open the A.M.P. Control Console, you can then either repair your equiped item or upgrade it.
5)Once you have assigned all of your points click on the CREATE button and wait 24 hours then pick up your item in the Finished Products Cabinet.
6) For armor special modifications (Cloak/Shield) there will be an item added to your Aid section in the Pipboy, you can activate it there or hotkey it to activate your modification.

CUSTOMIZATION DETAILS:

General Information:
The Automated Manufacturing Plant (A.M.P.) is an advanced system designed to construct, repair and modify items. The system works by first dismantling and analyzing a specific item until a complete diagram of the items condition is created.
Once a completed diagram of the item exists, the A.M.P. will then be able to repair any of the same item to the condition of the analyzed one with 1 unit of scrap metal from the "Scrap Metal Bin". An item in better condition than the analyzed one can be re-analyzed to update the diagrams condition.
The A.M.P. is also capable of modifying your weapons with accuracy, ammunition, damage and firing mechanism upgrades. Armor can be upgraded for agility, damage resistance, radiation resistance, strength and special suit modifications. Most of the upgrade categories have three levels to choose from, in order to maintain the items integrity there is a limit to the number of upgrades that can be applied depending on the complexity of the upgrade. As more items are analyzed the system will be able to apply a greater number of points without compromising the item's integrity.
The A.M.P. also has the limited capability of manufacturing new prototype items using a similar item as a base and lots of scrap metal using advanced schematics called "A.M.P. Data Cores". Each Data Core has a Radio Frequency Tracking Device (RFTD) equipped although reception varies greatly due to radiation interference. Whenever a new signal is detected it will be automatically added to your map.

WEAPON UPGRADE LIST:
Accuracy
- Level 1 (+25%)
- Level 2 (+50%)
- Level 3 (+100%)

Ammunition
- Toxic: Poisons target and has chance to paralyze.
- Explosive: Small charge on tip has chance to detonate inside target.
- Incendiary: Ignites on impact with chance of violent explosion.

Damage
- Level 1 (+10%)
- Level 2 (+25%)
- Level 3 (+50%)

Firing Mechanism
- Upgrades Semi-Automatics to Full Automatics
- Increases firing rate in Automatic weapons

ARMOR UPGRADE LIST:
Agility
- Level 1 (+25%)
- Level 2 (+50%)
- Level 3 (+100%)

Armor Plating (DMG Resistance)
- Level 1 (+10%)
- Level 2 (+25%)
- Level 3 (+50%)

Radiation Resistance
- Level 1 (+10%)
- Level 2 (+25%)
- Level 3 (+50%)

Special Modifications
- Cloaking Device (20s Cloak w/ 1min recharge)
- Kinetic Shield (20s Shield w/ 1min recharge)
- Regeneration (+1% health/sec)

Strength
- Level 1 (+25%)
- Level 2 (+50%)
- Level 3 (+100%)

REPAIRS:
After 1 item has been analyzed any more of those items can be repaired to the condition of the analyzed item.

RELEASE NOTES:
v2.12 Release Notes:
- Fixed repair menu for weapons added in 2.11
- Fixed cave door for easier access.
- Added "Scrap My Weapon" to Analyzer Terminal to deconstruct weapons (except uniques or mod added) into scrap metal.

v2.11 Release Notes:
- Added support for more weapons (Alien Blaster, BB Gun, Dart Gun, Railway Rifle, Rock-It-Launcher, Sawed Off Shotgun)
- Restructured points system making it easier to increase upgrade points.
- Added ability to hide the "Weapon Upgrades" message by using console(~) and typing "set ShowMSG to 0" then press enter.

v2.10 Release Notes:
- Fixed compatibility issues cause by the evil "Compile All Scripts" button
- Removed compatibility issues with Clover, she is now completely unaffected by this mod.

v2.01 Release Notes:
- Fixed weapon upgrade list

OTHER COMMENTS:

PLEASE NOTE THAT WEAPON/ARMOR EFFECTS MAY NOT BE IMMEDIATELY VISIBLE IN THE PIPBOY. CLOSING AND RE-OPENING THE PIPBOY TO THE STATUS PAGE UNDER [EFF] SHOULD SHOW ANY APPLIED EFFECTS.

ALSO NOTE THAT THE SHADER FOR THE KINETIC SHIELD WILL ONLY BE APPLIED TO YOUR CURRENT CAMERA PERSPECTIVE AND WEAPON. CHANGING WEAPONS AND OR CHANGING FROM 1st PERSON to 3rd PERSON CAMERA VIEWS MAY DISRUPT THE SHADER BUT THE ACTUAL SHIELD WILL STILL FUNCTION.

I'M ALSO LOOKING FOR NEW WEAPON IDEAS TO INCLUDE AS DATA CORES SCATTERD AROUND THE WASTELAND.