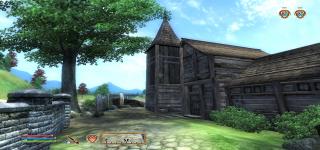 Views: 1,278
2.0
Nernie
Waterfront Market by Nernie
Version 2, February 23, 2010

This mod expands the poor area of the Waterfront District, adding new buildings and NPCs (with emphasis on making everything look more run-down). It also features a weekend market which is open on Saturday and Sunday from 9am-9pm.
-New buildings of note include a low-end chapel of Kynareth, a blacksmith, a butcher, a scribe/forger of documents, a tavern, and a cookshop.
-I've added many new little items, mostly food, such as meat pastries, a leg of mutton (Conan-style), bowls and cauldrons of stew and gruel, etc.
-The livestock dealer in the weekend market will sell you a sheep (if you've bought the game's IC Waterfront Shack) which you can then milk and shear (endlessly, I'm afraid, since my scripting is a little weak).

Version 2 adds:
-New buildings and stores on the North side of the Waterfront, including a ship supply store, a travel supply store, and an importer of wines and spirits.
-The interiors of the vanilla Warehouses have been updated to varying degrees. Some are high class, and store rich goods (with corresponding opportunities for thievery), and some are less impressive.
-The warehouses are now guarded.
-A new NPC who lives in one of the new buildings, Blacktail, will offer Thieves Guild members a small fetch quest.
-Taverns in the Imperial City sell a varying selection of the drinks imported by the waterfront company.
-The player shack now has a single window, instead of a shutter (visible inside and out), which lets in a little light.

There are two versions of this mod from which to choose from (don't use both). One that only alters the waterfront, and one that also changes the interior of the vanilla IC Waterfront house, to better match the look of the rest. The house quest can still be completed, and buying the kitchen/fireplace/storage/decoration receipts will even add tiny additions, but if you actively use this area to store your items, then you should move them all first, or simply use the NoShack version.
Note: The NoShack version of V.2 should now work fine.

Installation: Unzip, and place the esm file of choice, and the meshes and textures folders, in your Oblivion/Data folder. Overwrite any folders or files, if prompted.

Compatibility-wise, this mod won't work with anything that alters the Waterfront on the South side of the wall that seperates the ships and warehouses from the lower-class area. Otherwise, it should be fine.
Note: Better Cities already incorporates Version 1 of this mod.

Let me know if you encounter any issues.