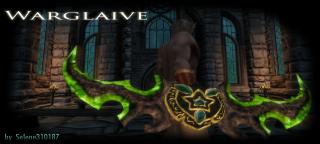 Views: 3,227
1.2.1
Selene
- added SoB version (SoB = Shield on Back)
- added reduced version

Advantages of the SoB version in comparision with the regular version 1.2:
- you can repair the Warglaives up to 125 %
- you can enchant them without any problems (if you activate Warglaive_1C.SoB - No Enchantments.esp)

Note: requires OBSE and the ShieldOnBack.esm from Shield on Back


Warglaive - reduced version
---------------------------

The reduced version contains just the main and off-hand Warglaives. No scripts and no enchantments. You can now enchant, repair and drop them without any problems. But without scripts the double Warglaives on the back are not possible. If can't go without them I recommend the regular or the SoB version (the last one requires OBSE).

Warglaive - regular version
---------------------------

by Selene aka darklady310187


Version 1.2 changes:
- improved sheath scripts (thanks, Visman!): the scripts work now on NPCs and in the inventory
- improved icons
- scripted enchantments for main and defensive weapons


I recreated the Warglaive of Azzinoth (Warcraft 3/world of Warcraft) from scratch. You can find the Warglaive in the Ayleid ruin Beldaburo (northwest of Anvil). But be careful. The mighty Dremora Azzinoth guards the weapon with his life.


The Warglaive comes in three versions: with blue-green blades, with bright green blades or bloody blades (see in addition the installation instructions).


Installation:
Copy the folders meshes, textures and the "Warglaive - EV".esp to your Oblivion Data directory. Activate the esp via Oblivion launcher -> Data files. Play Oblivion and enjoy! Ignore the other esp which is for German speaking users.

The folders "bright green blades - hellgrüne Klingen" and bloody blades - blutrote Klingen" include optional textures for the blades of the Warglaive. These folders contain another folder "Textures". Put this folder in the Oblivion Data directory and overwrite the other textures.

Warglaive - SoB version
------------------------

(SoB = Shield on Back)

by Visman


The SoB version requires OBSE v0015 or higher.
Download OBSE here: http://modsreloaded.com/obse

You also need the plugin Shield on the back v 2.3 or higher.
Download plugin Shield on Back here: http://modsreloaded.com/shield-on-back-revived


If you want to change the color of swords on the other, you can copy the folder "Textures" from the
Folder "Warglaive - Red blades" or "Warglaive - bright green blades" in the folder
Games ... Oblivion Data with the replacement of existing files.

Error messages, leave comments and suggestions on the forum
http://forum.alltes.ru/
================================================== ==============================
Installation:
0. First remove the original plug-in, if you are connected to the game.

1. Unpack the archive to a folder ... Oblivion Data (in this folder contains the file
Oblivion.esm).

2. Install the plugin Shield on the back "v 2.3 or higher, if it is not installed!

3. Start the Oblivion (OblivionLauncher.exe). Select "Data Files" in
list that appears, set the mark in front of the file Warglaive_1C.SoB.esp.
Click .

4. You can continue to play.