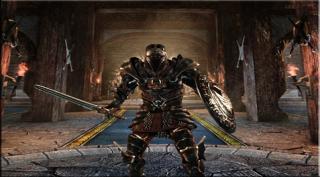 Views: 7,663
1.0
mguitar07
Uploaded by request. This is a personal retexture I did of krutz zeros' awesome Warden Black Massive Armor. All the credit for this armor should go to him, I just changed the textures, mainly focusing on color and some added details & lighting. It is still a work in progress, but since I had a few people request these be uploaded, I consider this a beta for those who may find it useful. When I have more time I will likely start over from scratch.

Requirements:
Krutz Zeros' Warden Black Massive v1.3
http://modsreloaded.com/warden-black-massive


Also, not required but HIGHLY recommended:
Symmetrical Massive Armor
http://www.dragonagenexus.com/downloads/file.php?id=836

Install:

First, you must install krutz zeros' "Warden Black 1_3" file (found here: http://modsreloaded.com/file/1423).

Second, copy the folder called "Warden Armor Retexture" from this mod into your ../Documents/BioWare/Dragon Age/packages/core/override
folder.

Uninstall:
Delete the Warden Armor Retexture folder from your ../Documents/BioWare/Dragon Age/packages/core/override folder.

Special Thanks:
Krut Zeros - For his incredible work on the original armor.

Razorgirl - For doing all the legwork to get this mod onto the Nexus for those that wish to use it.