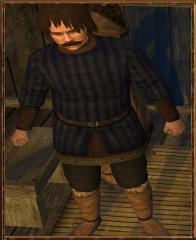 Views: 4,002
1.6
LDKsoldier
REWORKED ARMORS
Instructions:
download rar. file and extract it. Inside "Warband mini mod - Reworked armors 1.x." folder you will see "textures" and "CommonRes" folders, put them in your main Warband folder (C:Program FilesMount&Blade Warband). Accept to overwrite the files and enjoy it!

Changelog 1.6.
*Dragon Shield Reworked.
*Robe reworked again.
*Fixed all normal maps.

Changelog 1.5.
*Nomad Armor reworked again.

Changelog 1.4.
*White and Blue Gambesons reworked.
*Normal maps added to all my reworked armors.

Changelog 1.3.
*Khergit Armor reworked.
*Fixed Shirt, Robe and others's shadow, now they don't have iron reflections.

Changelog 1.2.
*Robe reworked.

Changelog 1.1.
*Shirt reworked.

Changelog 1.
*Nomad Armor reworked.