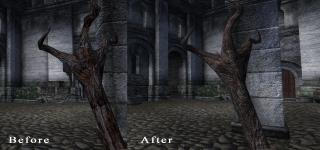 Views: 851
1.0
qwertyasdfgh
********************************
Visually Improved Staffs v. 1.0
********************************

Description
=========

Replaces default staff textures with high resolution ones.
It contains textures for all non-unique staffs + Hrormirs Ice Staff.
It also contains optional addon for glowing (which I highly recommend to use).

Details
======

All non-unique staffs: high resolution texture (1024x2048) + optional glowmaps (see screenshots)
Hrormirs Ice Staff: removed awful plastic effect + high resolution texture (1024x1024) + new glowing effect (vanilla staff has glow too, so its not optional)

Why choose my mod?
==================
There are several other mods on Nexus that replace staff textures, but all of them replace it with just plain wood.
My textures match the UV maps, so all staffs preserve vanilla color of the spiral on staff ending.
(Actually that was the main reason why I started making this mod)

Installation
=========

Provided as BAIN-ready archive. I think, folder names are pretty self-explanatory.
If you dont want to use BAIN, just copy files from folders 00 Core, 01 Optional glowing and 02 Hrormirs Ice Staff to your OblivionData folder.
This is a texture (and mesh) replacer, so no esp.

Incompatibilities
=============

Incompatible with any mod replacing same files (I think its obvious).
Just install my mod last and let it overwrite all.

Fully compatible with mods altering staff stats (OOO, FCOM and any others)

Known issues
===========

Textures still look bad somewhere. Its not a bug, just an imperfection of default staff meshes.
I`ll try to make it as unnoticeable as possible in future releases, but i`m not a modeller, so no guarantees.

Changelog
=========

13.05.2011 - Initial release

Future plans
==========
- retexturing Goblin Shaman Staff, Staff of Everscamp, Staff of Worms and Staff of Indarys
- perfectioning existing textures