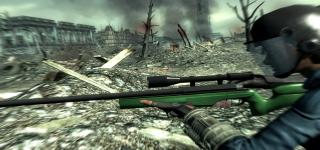 Views: 2,411
1.0
Project Valhalla
=Valhalla Rifle=
Is part of Project Valhalla

Please use this page for Bug Reports:
http://www.project-valhalla.org/index.php?title=Valhalla_Sniper

=Update part 4=
Not really a update from me, but the community around the rifle seems to have taken on a life of its own!

Blutsoldat has made another video about the rifle and uploaded to YouTube:
http://uk.youtube.com/watch?v=Gkb6a47Pt2E

Tory187 has been working hard on providing retextures of the rifle. Check em out at:
http://www.fallout3nexus.com/downloads/file.php?id=751

=Update part 3=
Introducing the Imported Rifle!
The Wasteland version of Valhalla Rifle is now available for purchase from Moira, Flak or Captain Gustav.
Credit for the new textures go to RamonSterns!

Also, since the original Valhalla rifle was too overpowered, the Brotherhood of Steel managed to secure them for their own private use. So those people who want to play it old skool, head down to the citadel and check out the stock at armory. The gun was also rechambered to use bigger bullets.

=Update part 2=
Fixed the UV maps on the babe. Should be a lot better now.
Specularity was toned down.

Check out the rifle on YouTube:
http://uk.youtube.com/watch?v=l6OymTXJCT8

Thanks to blutsoldat for the video!

=Update=
Added new spec map, look better now IMO. Maybe I went little overboard with it. But its still way better.
Also optimized the mesh and removed the red eye from the scope.
There is still a lot of work with this one, but we are surely getting there!

=Installation=
Copy the files from the .rar to you data folder and load the .esp's using FOMM (the game's own data file loading doesn't work yet).

Make sure that you have "bInvalidateOlderFiles=1" line in your fallout.ini . Otherwise you wont have any textures.

=UnInstallation=
Remove the "valhalla" folders and .esp files.

=Console commands=
Valhalla Rifle player.additem 00104333 1
Imported Rifle player.additem 00204333 1

MISC:
Some videos of crappy quality:
Part 1
Part 2

BTW, is this the 1st mod that really adds a custom made weapon (with its own model, texture and stats) to the game rather than replacing the old ones?