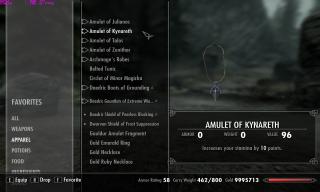 Views: 2,051
1.0
mtsaint
Just like the description says an unlimited amount of amulets can be equipped at once. This is meant to be used as a modder's resource. Feel free to use it however you want.

Un equip any amulets before activating this mod. Un equip, save, activate. Back up a save just in case.

All vanilla loot amulets are available. A version with just 2x or 4x or 8x is in the works for now just equip the amount you want. Amulets do not show on your characters and unfortunately I cannot make them show up.

Please report any bugs I will fix them.