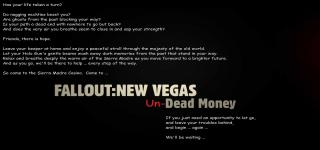 Views: 1,662
2012.03.01
drakeelvin@yahoo.com
Fallout: New Vegas
Undead Money
By drakeelvin [at] yahoo [dot] com
Version 2012.03.01



Introduction
Has your life taken a turn?

Do nagging neckties beset you?
Are ghosts from the past blocking your way?
Is your path a dead end with nowhere to go but back?
And does the very air you breathe seem to close in and sap your strength?

Friends, there is hope.

Leave your beeper at home and enjoy a peaceful stroll through the majesty of the old world. Let your Holo Gun's gentle beams wash away dark memories from the past that stand in your way. Relax and breathe deeply the warm air of the Sierra Madre as you move forward to a brighter future. And as you go, we'll be there to help ... every step of the way.

So come to the Sierra Madre Casino. Come to ... Fallout: New Vegas, Un-Dead Money


If you just need an opportunity to let go,
and leave your troubles behind,
and begin ... again ...

We'll be waiting ...


Details
udmCloud.esp - Harmful effects of being inside concentrated pockets of the toxic cloud are greatly reduced.
udmCollar.esp - Radios and speakers will not trigger the collar.
udmHoloGun.esp - A recharger pistol that also destroys holograms if you aim it at them manually.
udmTower.esp - Teleports you to the fountain after you set off the Gala event.
udmValves.esp - Repairing 1 kitchen gas valve repairs all 3, if being lit on fire and blown up annoys you.
udmVault.esp - Teleports you up the elevator after Elijah is dealt with, if you are not encumbered.
UndeadMoneyALL - One plugin with all features.



Installation
Requires Fallout: New Vegas 1.4 and Dead Money.
Extract files to New Vegas data folder.
Enable the plugins you want. (Choose either UndeadMoney/ALL, or any combination of the others.)



Notes
The Holographic Disruptor only exists for the duration of the main quest. Keep a backup weapon for later.

The Holographic Disruptor can only be repaired with kits.

If you trigger the Gala event before this mod is enabled, it will not teleport you to the fountain.

In the vault you have about 20 to 30 seconds to do stuff, after Elijah is dealt with, before being sent up the elevator.