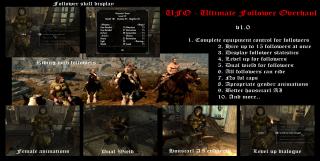 Views: 89,129
1.2i
fLokii

Files - Ultimate Follower Overhaul
File size: 85.80 KB

Downloaded: 5790

File date: 2013-06-18 12:39:30

File comment: Version: 1.2i - extract over previous version.
---
File size: 457.00 B

Downloaded: 131

File date: 2012-08-23 06:27:50

File comment: Extract, enable, play. Goes under UFO main in load order. Makes followers always draw weapon when you do. For people that do not want original UFO style.
---
File size: 1.90 KB

Downloaded: 434

File date: 2012-08-23 06:11:54

File comment: Enable with UFO main esp (yes you need the main, this is just an add-on), for compatibility fixes if you have Dawnguard DLC.
---
File size: 85.60 KB

Downloaded: 3438

File date: 2012-08-23 05:56:08

File comment: INSTALL: Extract over previous version. For extra install info go to front page and click INSTALL and/or INSTALL VIDEO links.
---
File size: 82.38 KB

Downloaded: 679

File date: 2012-04-16 12:20:05

File comment: Ultimate Follower Overhaul
---
File size: 457.00 B

Downloaded: 32

File date: 2012-04-16 12:20:05

File comment: Ultimate Follower Overhaul
---