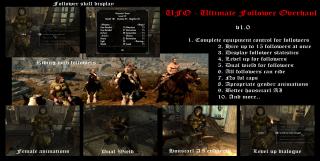 Views: 89,339
1.2i
fLokii
UFO - Ultimate Follower Overhaul (v1.5 Skyrim or higher required)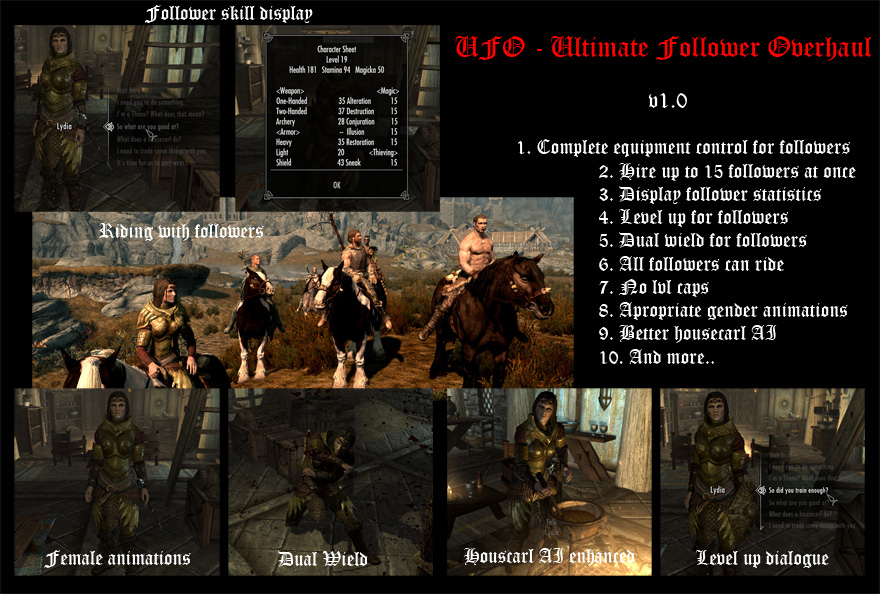 UFO is a set of tools and enhancements to the followers system that will allow for better control and usability of followers.


Goals
Make it simple, so it works even for people that don't read description instruction.
Give new and expand existing follower options.
Fix broken stuff from vanilla.
Make it easy to use.
Ensure compatibility with most type of mods.



Features
1. Fully tradable inventory - Allows for full customization of you followers gear and hence looks. Simply take what you don't want them to use and give them what you want them to use.

2. Hire up to 15 followers at once - Internal scripting for more than one follower at a time.

3. Display follower statistics - Ask what a followers is good at and they will display their stats. Works once follower joins you, but also hirelings can be asked prior to joining.

4. Level up for followers - Vanilla game does not level follower stats but keeps them at level you where when you first saw the follower. In UFO simply tell
them to train and they will level up stats to their true level.

5. Dual wield for followers - If you give them two weapons, not they will use them.

6. All followers can ride - All followers have custom riding packages and will ride if they have a horse around. Eight horses for followers can be found across Tamriel, at stables or major cities. All UFO horses can Fast Travel as described below. If you want to use other mounts for followers you can download Horse Branding(you just need the esm file, disable the esp) and if you combine Horse Branding with Like a Boss it's yeah.. MEGAFUN!! :)

7.No lvl caps - All follower level caps have been removed

8. Appropriate gender animations - All female followers have female animations.

9. Better Housecarl AI - Houscarls will move around house and do different things.

10. All followers can be married

11. Followers will draw weapons in combat only.

12. Probably something i forgot.. like a bow fix and probably more :)



Update
Added Proper Relax and Flee for animal follower. Done
Dialogue choices for animal follower tweaked. Done
[Horse]Interact - Opens players horse inventory too.[It's practical and changes nothing on player horse. So 100% compatible with any horse mod. Hence added.]
Stop Fighting voice command expanded to "exotic" followers (Serana, Cicero etc.)
Misc. tweaks and fixes. Done



DAWNGUARD FOLLOWER COMPATIBILITY
1)If hiring DLC follower 2nd, he will need to be hired 3 times before he joins. Same goes for dismissing him/her. All other spots should work as normal.
2) If hiring Serana with more followers HIRE her FIRST, DISMISS her LAST.
Hopefully Bethesda will release DLC source files soon so I can release full DLC compatibility esp.


Dawnguard
This is an add-on for the DLC that I will initially use to fix any issue that might show. After Bethesda releases source files from the DLC I will probably just make a whole new main esp for Dawnguard, but for now this is preferred as the issue are minor.


UPDATE 1.0f UPLOADED


Fixes

-- Lydia no longer goes to Breezehome if you did not buy it
-- Issue with dogs not following while you ride fixed


Features
ALL FEATURES ARE EXCLUSIVE TO UFO FOLLOWER MOUNTS AND DO NOT AFFECT VANILLA HORSES OR ANY MODS THAT CHANGE VANILLA HORSES
-- Horses will come to main horse when player mounts
-- Mounted Fast Travel - When you and your followers are mounted/riding, Fast Travel to a location, when there wait 1h using T button. Mounted followers and horses will not fast travel into interiors.
-- Horses Return to stables when no followers are with player
-- Followers do not seek conflict while mounted, but will defend themselves or the player.
--One horse at each stable - 8 follower horses spread out around Tamriel
--If named Thane, you can recruit guards of Whiterun if you have a Housecarl with you.
****************************************************************************************************************************************************************************************************************************************************************************

UFO - THINGS TO KNOW
0. Read and do what is on description page for your own benefit.
1. UFO requires 1.5 or higher version of Skyrim
2. Always prefer the use of ORIGINAL GAME LAUNCHER to any 3rd party program for install and load order management.
3. What i write is what i mean. If you follow instructions as written, you will win.
4. If you have problems with functionality and did not follow instructions, follow instructions.
5. Fail Safe Install Procedure for Beginners is made for you and to help you with removing mods properly. If you did not have old mods, all you would need to do is enable UFO and play.
6. Having bad saves from old mods is not an UFO issue, it is yours and of mod authors whose mods, being uninstalled, messed it up.

FAIL-SAFE INSTALL PROCEDURE FOR BEGINNERS
0) Update Skyrim to 1.5 or higher version.
1) For everything below use ORIGINAL GAME LAUNCHER
2) Start Skyrim, load game, dismiss all followers,type show playerfollowercount and if it shows 0, save game, Quit.
3) Disable all mods affecting follower limit or mechanic (ILF, Mullti followers, TCG and any other) then uninstall them.
4) Delete any loose pex files in DATA/SCRIPTS folder that are on the list i have linked(LIST OF BAD PEX FILES )
5) Start Skyrim, load game, save game, Quit
6) Install UFO, position UFO.esp at the lowest place.
7) Start Skyrim, load game, Win



Uninstall
1) MAJOR THING:(Only If You Do Not Want To Play UFO Anymore) Before removing you need to dismiss all your followers and go to Riverwood. On the river island there talk to Tina the Firefly. Yes she's a firefly. Only when you get dialog saying "It is done, please quit game and remove UFO files." can you make a save and uninstall.
--WHY?-- If you don't, all follower will have Outfit=None remembered in a save and with no other follower outfit setting mod you'll get a lot of naked peoples. This is unfortunately the only way i can make this mod compatible with other mods that change actor forms, without having to worry about compatible files or setting Outfit=None manually in other mods.
2) MAJOR THING:Also dismiss followers before talking to Tina and removing the mod. Otherwise extra followers above the one allowed by vanilla game will be non-hireable with vanilla settings.



Updating UFO
Unless stated otherwise download updated files, extract them to data folder and when prompted replace the old ones in there.
Check in ORIGINAL GAME LAUNCHER that UFO is still lowest in load order(or where you had it before updating). Start Game.


Troubleshooting
--USE ORIGINAL GAME LAUNCHER--
1) If you have problems after doing Fail Safe Install Procedure for Beginners, following it to the letter, you may have:
a) Bad Save Game
Do Fail Safe Install Procedure on a different save.
Start new game.
Contact mod authors whose mods you uninstalled and got problem from
b) You have a mod conflict.
1)Disable ALL mods you have and leave only UFO enabled
2)Rename DATA/SCRIPTS folder to DATA/0SCRIPTS
3)Load a save game you are sure is not corrupted by old mos being uninstalled and you have no followers with you.



Compatibility
0) Any mod that does not modify dialogfollower quest/script
1) If you load below UFO, you can use mods for followers. Unless they have dialogfollower limitation from 0)
2) Custom follower mods by default get - Level UP dialog, Display STATs dialog, More Followers at Once, Followers can Ride and can have full inventory control by telling: You could dress better.
****************************************************************************************************************************************************************************************************************************************************************************
****************************************************************************************************************************************************************************************************************************************************************************



History
This mod originally started as an extension to TCG Tradable Companion Gear. But as it grew it became very extensive and finally, with the addition of more followers at once, i decided to make it into its own complete mod to overhaul followers.

Reported by users, follower changing, fully compatible mods for now:
Followers can Relax
Follower Trap Safety
Spouse can live everywhere
Move it


Mods that are compatible, but must be placed BELOW UFO in load order:

All Follower Appearance mods
Specialized followers
Essential Followers
Horse Branding (disable BasicHorseRidingAI.esp it is in UFO already)
Better Followers (do not use dialogue.esp and delete C01QuestScript.pex from data/scripts folder)
NPC Editor created mods
And similar..

Mods that are compatible, but must be placed ABOVE UFO in load order:

Gabby the Cute Pastry Chef Companion
Fair Khajiit
Horses for Followers (place above UFO in load order)

Not compatible:

Recruit More Blades - SkyhavenTempleEnhanced
Increased Follower Limit or similar multifollower mods
Black Tower (author is making it compatible atm, kudos to him!!)
__________________________________________________________________________________________________________________________________________________________________________________

UNINSTALL TS:
If you don't know how to find Tina the Firefly:
open console, type
help Tina 4 (you will get "ACTI:(xxxx) "Tina The Firefly " )
player.placeatme xxxx (xxxx are ones you got in the line before)
She will spawn by you and you can talk to her about setting up UFO for deletion. After you are done, save and quit game.
Rest is like for all other mods.


INFO:
1) Cicero and BD initiates use a different framework from regular followers so at present they have vanilla outfit system. I will update if i manage some progress there.


VERSION HISTORY:

UPDATE 1.0h NOTES:
Read 1.0g for scripting changes and install possibilities as this is the same if you are skipping on 1.0g and going straight to 1.0h
Features:
-Follower sandbox- Let them stay where you leave them and sandbox till you pick them up again - Done
Fixes:
Hireling will not take your money when they are supposed to be rehired for free - Done
INSTALL: 1.0g to 1.0h -- extract, replace old files, play.
1.0a-f to 1.0h -- As described in 1.0g (Also step by step guide in UPDATING UFO section for complete uninstall/install method)
1.0h
Features:
-Follower sandbox- Let them stay where you leave them and sandbox till you pick them up again
Fixes:
Hireling will not take your money when they are supposed to be rehired for free

1.0g
-- Automatic start up script for tradable inventory removed to increase compatibility with other mods and avoid possible issues with "mule" npcs having to much equipment which can cause hiccups on inventory conversion. Followers from now on have to be manually set to tradable inventory.
INSTALL:
a- OLD USERS + REPLACE 1.0f files with 1.0g files = Everything will remain the same
b- OLD USERS + UNINSTALL by Tina + INSTALL 1.0g = You will have to use "You know..." dialogue branch to set follower inventory fully tradable again. Note: Setting tradable inventory will spawn an additional armor set for follower, as the outfit removed will be placed as tradable gear into followers inventory.
c- NEW USERS + FAIL SAFE INSTALL = Upon hiring follower you will need to set his inventory tradable through "You know.." dialogue branch using "You could dress better" dialogue

1.0f
-- Horses will come to main horse when player mounts
-- Mounted Fast Travel
-- Horses Return to stables when no followers are with player
-- Followers do not seek conflict while mounted
--One horse at each stable
-- Lydia no longer goes to Breezehome if you did not buy it
-- Issue with dogs not following while you ride fixed
--If named Thane, ability to recruit guards - Whiterun enabled


1.0e --
You know.. dialogue options - a new main that will contain miscellaneous dialogue choices
You are important - Will set current follower to essential
You are irrelevant - Will set current follower non essential
You could dress better - Will "ufolize" custom follower from any mod and make their inventory fully tradable (disclaimer: this will remove outfit from custom follower getting ufolized, to re-enable outfit you will need to setoutfit from console or disable/save/enable the mod the custom follower is from) [tested with CM new companions mod]
You are naked.. - Should you see a naked potential follower, tell them they are naked.

1.0d - New dialogue options, fix for Mjoll, **fix for Lydia** - recalled as it caused spouses to leave homes - I promise i didn't tell them to go cheat.. really.
1.0c - Followers should not attack each other on friendly fire anymore. Or less at least :)
1.0b - Corrected a stupid scripting mistake i made, DB initiates and Cicero can be recruited now.
1.0a - Small fix to riding detection for followers, as to prevent potential mounting, once player dismounts.