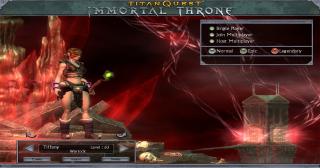 Views: 9,591
1.0
Munderbunny
This is the final tier of difficulty I will be releasing.
Built off of UberAldentecore XMAX, this mod starts with the extreme difficulty and spawning of the Double-or-Nothing XMAX mods and, thanks to the dark artistry of I.N.S.A.N.E., it also features the death effects for 1.16. [Death effects version unavailable as of 2-13-09 until problem can be fixed. Use Uber Plain in the meantime--same game, just no death effects.]

This mod is not recommended for new players, or even moderately experienced players (unless they are demonically masochistic); it's for veteran players who are looking for an advanced challenge.

Check out this 60-second video of some Legendary Uber Gameplay.
http://www.youtube.com/watch?v=C4t7o6znUMM&fmt=18

It's highly unlikely that a less-experienced player will enjoy this mod. For newer players, unsatisfied with the level of challenge the game provides, I recommend you try out the 2xDifficulty mod or the Double-or-Nothing mod. For moderately experienced and veteran players who are just looking for something new, I recommend trying Lilith; the latest version of Lilith includes several difficulty options, as well as providing a lot of new game content.


The features of the Uber mod:


Increased difficulty

Increased monster spawning

Increased hero and champion chance

Heroes and bosses have high chance to drop double-affixed items

Added new boss (Epic and Legendary only)

Orb bosses drop uber-loot

No loot penalty for repeating any boss chest

Death penalty is all experience gained so far that level (won't go below your current level)

No gravestone recovery

-22% reduction to all stat requirements

Many affix changes/additions to uber-loot affixes

Orb bosses more reluctant to give up their orbs

Oh, and I forgot: bosses spawn in groups of 6


Requirements:

This mod requires the Immortal Throne Expansion and the latest community patch 1.16.

This mod also requires a robust system to run. Performance is similar to XMAX (for those of you who've played DoN, the performance is pretty much the same).


Installation:

Extract the contents of the RAR file into your Immortal Throne installation directory (usually found here: Program FilesTHQTitan Quest Immortal Throne)

Doing so will add files to your installation directory, and overwrite these files:

Program FilesTHQTitan Quest Immortal ThroneDatabasedatabase.arz
Program FilesTHQTitan Quest Immortal ThroneResourcesText_EN.arc
Program FilesTHQTitan Quest Immortal ThroneResourcesEffects.arc
Program FilesTHQTitan Quest Immortal ThroneResourcesLTex.arc

The package comes with a backup for your database.arz file (named "database.arz.116").

The included resource files only add to the game's resources for the Uber Mod. This means, switching between Uber Mod and other mods (or the regular game) is still just as easy as a database swap. You should still back them up, just cause.

Once the extraction has completed, go to the database folder (Program FilesTHQTitan Quest Immortal ThroneDatabase) and run Uber.bat to swap your database for the Uber database. To restore your 1.16 database, use the Restore.bat.

I included the batch files for convenience, though if you prefer not to use the batch files, you can swap out the database manually by renaming "database.arz.uberdfx" to "database.arz".

Big thank you's for Yerky, Persona, Seufari, and Eric the Red for their feedback on what turned out to be a huge mother ******* project.

-----------------------

Change Log:

1.0 changes:

Bosses no longer spawn on top of each other
Added new boss monster (only in epic and legendary)
Some balancing changes to boss-boosts
Included fix for 1.16 trap problem
Adjusted orb boss weight tables
Heroes and Champions now spawn with more frequency
Hero double-affix chance improved
Champions have a small global chance to equip double-affixed items
Changed malevolent skill to trigger on low health instead of melee damage
Minor balancing changes to Megalesios
Changed starting weapon to a bow
Slightly nerfed horse-quest monsters
Adjusted level requirements on uber affixes
Changed global stat-requirement reduction to 22%

Pre 1.0 changes

Now with crows! (Fixed missing crow mesh from death effects)
Updated description so people don't think you lose a level when you die.