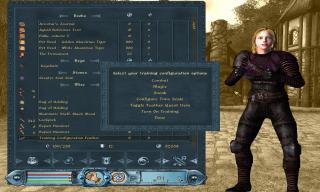 Views: 1,206
1.0
Puff
Name: Puff's Training When Idle
Version: 1.0
Date: 1/2/2009
Category: Gameplay Effects and Changes
Author(s): Puff
TES Forums Thread: http://www.bethsoft.com/bgsforums/index.php?showtopic=936051

Description
===========
This mod allows you to select a skill to train while you're dorking around doing nothing. Now all that time you spend sitting around and staring at all your hot half naked clothes mods can be put to good use!
Details
=======
When you start or load a game with this mod selected, you will automatically have added to your inventory a Training Configuration Feather. Equip this feather (found in your miscellaneous items) to bring up the configuration menu. You can select from the following options:

Select a Combat skill
Select a Magic skill
Select a Stealth skill
Configure the delay time between skill ups in real world time
Toggle the "Quest Item" flag on the configuration feather
Turn on or off the training feature.

I think the config menu is pretty self explanatory from there. You can only select one skill at a time to train and it will not train it if you are casting a spell, sneaking, swimming, jumping, or in combat. The default time period for training is 120 seconds of real time, which equates to 1 hour of game time - so it will take 1 hour of game time to level up a skill by 1 point. The minimum time is 15 seconds (about 7 minutes of game time). Actually using your skills is MUCH faster, but this way you can relax a little bit more :)

This mod will probably be most helpful to people focused on "efficient leveling" since they no longer will have to manually train all their minor skills. However anybody can use and benefit from this mod, even if you have a mod that changes the leveling system ( I use Realistic Leveling by abo - http://www.tesnexus.com/downloads/file.php?id=13879 ).

Note: The screenshot of the configuration root menu was taken while using DarkUI Darn Recolored Dark Blue ( http://tesnexus.com/downloads/file.php?id=16387 ).

Install
=======
1. Extract the files to a temporary location.
2. Copy files to (install folder)\Oblivion\Data\
3. Start Oblivion Launcher, click 'Data Files', place a checkmark beside the IdleTraining.esp file.
Uninstall
=========
1. Start Oblivion Launcher, click Data Files, uncheck the IdleTraining.esp file(s).
2. Delete the IdleTraining.esp.
Incompatibility
===============
It's a simple mod and I've tried to make it as unintrusive as possible, so there shouldn't be any compatibility issues. If you find one PLEASE let me know!
Known Issues or Bugs
====================
None that I am aware of. If you find one TELL ME!

Note: I use the setAv function to adjust your skills, so there should not be any problems with leveling your skills normally after using this to train your skills, however if anybody finds a bug, this is where I'd expect it to be.
History
=======
v1.0 First release
Contact
=======
Pufthemajicdragon on TESNexus and Puf_the_majic_dragon on BethSoft's forums.
Credits
=======
Me for thinking it up and doing the work.
All of the wonderful contributors to the CS Wiki!!!!!!!

Thanks to Bethesda for creating Oblivion.
Thanks to TESNexus.com for the a one-stop-shop resource for authors and players.
Thanks to LHammonds for the Readme Generator this file was based on.
Thanks to God for creating us all.
Tools Used
==========
TES4Gecko - http://www.tesnexus.com/downloads/file.php?id=8665
TESsnip - http://www.tesnexus.com/downloads/file.php?id=2114
TES Construction Set - http://www.tesnexus.com/downloads/file.php?id=11367
Readme Generator - http://lhammonds.game-host.org/obmm/tools_readme_generator1.asp
Licensing/Legal
===============
It's not like I could stop you so you can do whatever you want with this mod; just don't complain to me if it doesn't work or your PC blows up.