Star Trek Armada 2 Classic with Fleet Operations
Star Trek Armada 2 Classic with Fleet Operations

I made an upgrade on Star Trek Armada 2 Classic using Fleet Operations engine.
That idea came, when a user ask for help, because he can't run Armada 2 on he's computer, so I decide to try implement A2 in the FO engine.
I added 16 new factions: Dominion, Shivan Empire, Reman, Hirogen,Vulcan,Ferengi, StarFleet,Temporal Empire, The Metathran, Terellan Navy, K'Loran, Terran Confederation, Kilrathi, Breen, Earth Empire and Plasc.

Available races:
1- Federation,
2- Borg,
3- Klingon,
4- Romulan,
5- Cardassian,
6- Species8472,
7- Dominion,
8- Shivan Empire
9- Reman ,
10- Hirogen,
11-Vulcan,
12-Ferengi,
13 - StarFleet,
14 - Temporal Empire,
15 -The Metathran,
16 - Terellan Navy,
17 - K'Lorani,
18 - Terran Confederation,
19-Kilrathi (incomplete),
20 - Breen,
21-Earth Empire,
22-Plasc



Download link:
https://mega.nz/#!oh1SGYLZ!dYkxzjdMjLD487Jdj1mVi1OJDMaJxUsdh0WKqh0uI2E

Unzip to your D:\Games folder and have fun.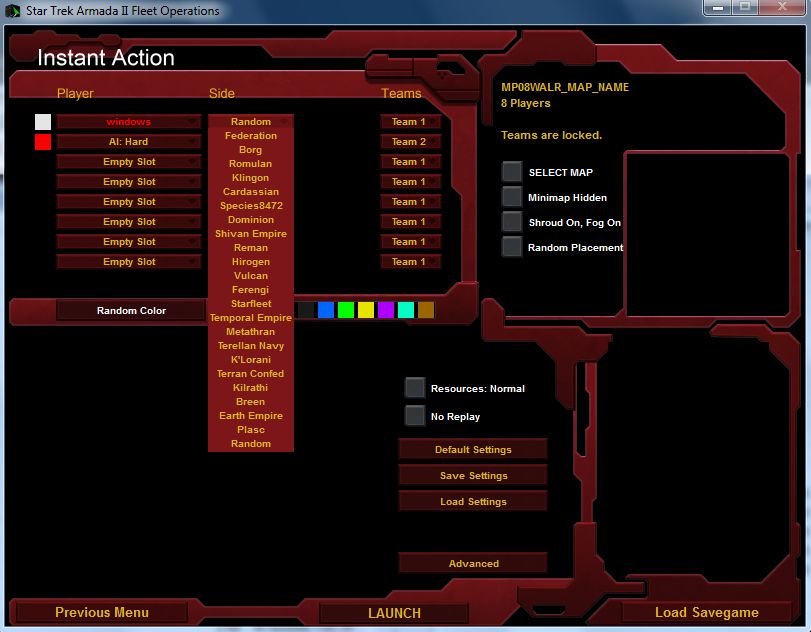 0.3

Posts: 38
Location: Hungary
Kudos: 1
CPU: AMD Athlon 64 - 2 GHz
GPU: Nvidia GeForce 210
RAM: 4 GB
Storage Space: 1 TB
Sound Card: On Board
Case: Tower
---
Re: Star Trek Armada 2 Classic with Fleet Operations
0.3

Posts: 38
Location: Hungary
Kudos: 1
CPU: AMD Athlon 64 - 2 GHz
GPU: Nvidia GeForce 210
RAM: 4 GB
Storage Space: 1 TB
Sound Card: On Board
Case: Tower
---
Re: Star Trek Armada 2 Classic with Fleet Operations
0.3

Posts: 38
Location: Hungary
Kudos: 1
CPU: AMD Athlon 64 - 2 GHz
GPU: Nvidia GeForce 210
RAM: 4 GB
Storage Space: 1 TB
Sound Card: On Board
Case: Tower
---