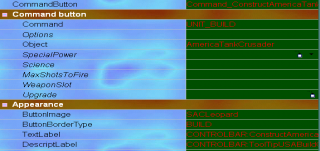 Views: 2,381
2.1
Various
TibEd 2 can edit:

* Command & Conquer: Generals (not The First Decade edition)
* Command & Conquer: Generals - Zero Hour (including The First Decade edition)


Known issues (to be resolved in future versions)

* C&C3: When your mod is built, sometimes TibEd claims the building failed, even though it succeeded.
* C&C3: The AssetGrouping list is very incomplete.
* C&C3: Editing Include XML files is not available (and would lead to strange results).
* C&C3: Adding ART and AUDIO has not been tested, will probably expose bugs.
* There is no documentation

Please post bug reports in the TibEd forum. Please include precise steps on how to recreate problems/crashes. Be sure to include a log which can be shown using "Show log" found in the Debug menu.



Getting started

* Launch TibEd 2 and select a game, like Generals or Zero Hour.
* Check that the game folder below the game list has been properly detected. Be sure to correct it if needed.
* You can select a project template from the template list. The "Default project" is selected by default, this is what you will normally use.
* Press the "Start" button to make your project.
* You will be asked for a name for your mod, please make sure to use a unique name! See notes below if you want to know why this name should be unique for your project.
* On the main window toolbar, select "Open window". This will bring up the place where you will do most of your editing: The Edit window.
* In the edit tree on the left side of the edit window, you can find all the things you can edit. When you select something from the tree, an editor for this item will be shown on the right side of the screen.

Using your mod (C&C3)

Press "Play mod" in TibEd 2
or
Press "Build mod" in TibEd 2. Launch the C&C3 Tiberium Wars Control Center. Select "Game Browser". Go to the "Mods" tab. Select your mod and launch!

Using your mod (Generals/Zero Hour)

TibEd 2 can create .BIG files, which are placed in a special folder under your Generals folder. By selecting "Export to game" from the toolbar, your mod will be exported so it is usable by Generals Mod Selector or BFME Mod Launcher. It will show up with the name and information you can find in "Mod Settings" in the edit window.

After exporting, your mod is not enabled. It is merely sitting there, until you actually use it. To use your mod, launch "Generals Mod Selector". This program allows you to play one of your mods, or the normal game. No more problems with having multiple mods installed: the launcher handles this properly, it launches the game with the special '-mod' switch present in Generals. If you do not run the game through the launcher, it will run the normal game.

Note: It is very important that you do not have any mods installed while using the Generals Mod Selector. Mods which consist of a single .BIG file are compatible with the program, provided they are placed in the Mods folder under your Generals (or Zero Hour) folder. A mod like Pro:Gen is not compatible with Generals Mod Selector, deactivate it first.


Notes on an unique name

TibEd 2 will automatically generate a Mod ID from the mod name. If two mod projects have the same ID, then if you export your mod, then the exported version of the other mod will be overwritten. This ID can be found under "Mod Settings" in the edit window, you can see/change it here.