Three new Call of Duty games in the works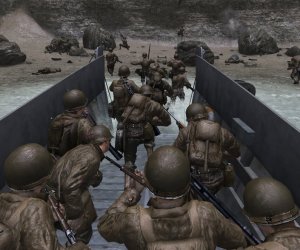 Activision insider Dam Amrich has revealed that Activision has three new Call of Duty games planned for release by 2012, while at the same time urging remaining Infinity Ward staff to remain with Activision.

Posting on the Gamers Against Bobby Kotick Facebook page, Amrich confirmed previous rumours that a new studio had been bought in to work on the Call of Duty franchise.

"They've confirmed three games in the next two years," Amrich wrote. "Seeing as how there is a pattern of one new COD game every year, this is one new COD game from one new developer, and in a different genre from the core games we've seen."

Liaising with disgruntled gamers who had formed against Activision Blizzard CEO Bobby Kotick, Amrich admitted that he didn't agree with some of the past decisions that Kotick had made, though he still stood by the company.

"I wish that the GH avalanche that hit us last year did not exist [and] I think the $15 price point for MW2 DLC was a mistake" said Amrich. "While I respect him as a businessman, I wish Bobby Kotick would not shoot from the hip so often."

Amrich, who works as an Activision blogger and podcaster, also urged the remaining Infinity Ward staff who hadn't fled after founders Jason West and Vince Zampella to stay with the company - if only to collect on the bonuses that those staff had forfeited. Of course, the irony is that most of the departed claim they left because they weren't getting their promised payments.

"Vince and Jason had very large bonuses; those bonuses are being redistributed to everybody else, to the people who did not allegedly attempt to steal company secrets," said Amrich.

"Activision is not pocketing that bonus money; it's still going to the people who work at IW. But you have to work at IW to get it, see? I don't want to see talented people screwed out of a paycheck any more than you do."
Please remember to comment, it helps to encourage modders with their work.
1.0

Posts: 1054
Location: England
Uploads: 17
Kudos: 18
Motherboard: Gigabyte EP41
CPU: Intel Core 2 Duo
GPU: Nvidia 9800 GTX PCI
RAM: 2048 RAM DDR 2
---