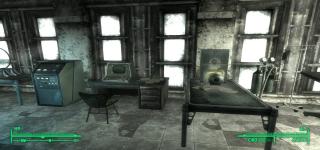 Views: 1,269
1.0
CrashWorship (Apostate9)
So, you joined the Brotherhood of Steel, but you didn't get a membership card, or even a handshake? Do you feel like a hired gun? Want somewhere to hang your hat in knightly style?

Ladies and Gents, I give you...The Annex. This is mainly a house/companion mod, but it adds quite a bit of content to various parts of the game, just to enrich the overall experience, and tie the DLCs to the main game a bit more. This includes quests both marked and unmarked, and little hooks into the game lore and back-story. Your new companion blends into the backdrop of FO3, and the Annex itself changes to reflect your adventures.



Content


A lore friendly player home in the Citadel, for characters who have reached the appropriate stage of the game

A new companion with a unique background, dialog, and abilities

Throwback items from past/subsequent Fallout games

New ingestibles

New marked and unmarked quests

House Features

The Annex is a partially renovated area on an upper floor of the Citadel. Once used by Dad, the Annex is now yours! This area is lore-friendly, fits in the Citadel environment and has dynamic lighting due to the number of windows. During the course of the day, the lighting will change.
Integration with MajorKrupps' Historical Action Figures Mod
Collect historical trinkets and items and display them in your home.



Upgrades for Sale

Purchase upgrades to enhance your home's appeal, including a vintage Nuka Cola fridge, and armor display mannequins.



Weird Science!

Your home evolves as you do. Use your personal mainframe to begin new research projects, unlocking crafting options and adding new gear to your kitchen, laboratory and armory as your character becomes more powerful.



Personal Touches

]Your home comes equipped with a treasure vault, lab area, master suite, guest room, dining area, Kitchen and many display surfaces, storage options, dynamic trophies, and Bobblehead Stand. Enjoy a bottle-washer and sink to refill water bottles, and other modern conveniences!



Privacy Options

Containers marked as "My" such as "My Trunk" are for your use only. You also have the option of locking the Master Suite and Kitchen doors, so that companions loafing in your home don't eat all your chow and drink all your booze!



New Companion Features

This mod is companion friendly, and adds new dialog options to Dogmeat and Star Paladin Cross, allowing you to dismiss them to the Annex, rather than their previous rally points. Quality 3rd party companion/follower mods should integrate nicely.

This mod also adds a new recruit-able voiced NPC with a unique background and flavor. It may or may not remind folks of a companion from years past. This is NOT another generic milquetoast follower, trust me!



Name: Gundar
Gender: Male
Race: FEV enhanced mutant Jackson's Chameleon (Deathclaw)
Age: Unknown
Height: 9' 4"
Weight: 429 lbs.
Psi Potential:Classified
Enhancement:Classified

This NPC can be found in the Taft Tunnel area. If your game has progressed to the point that the Enclave have already appeared, you may go back into this area and locate him. As you will learn, this character has an agenda of his own. But win his trust, and you will have no truer friend in the Wasteland.


Requirements


This mod requires all five Bethesda DLC add-ons, as well as this fine resource for collectible objects by MajorKrupps, available here:

http://fallout3.nexusmods.com/download/84918

Details of this mod and possible conflicts:

http://fallout3.nexusmods.com/mods/17676


Be sure to get the MASTER, not the plugin.

All other required masters have been included. You need to activate them all. I suggest placing the .esp file for this mod fairly low in your load order.


Credits
Mannequin Textures: AndyW1384
Vintage Nuka-Cola Fridge: x BattleHeart x
Cat's Paw Magazine Textures: CptJoker71
Mutfriut Resource: d_ivanov


Note: NO ASSETS from prior or future Fallout games have been used in the making of this mod. Any such game items have been re-created by myself or other modders.

This mod may place a load on older machines, though I have done what I can to keep the performance up, so it may not. YMMV. I am happy to help fix bugs, if they are reported politely and completely. This mod has been tested, cleaned, and bit-flipped for better NPC pathfinding.

This is the Release Candidate, so there MAY be packaging errors. Let me know if there are missing textures or whatnot, and I will fix em.



To Install
Uncompress the contents to your data directory. Ensure you have MET THE REQUIREMENTS. Activate all masters and The Annex.esp.

Enjoy!