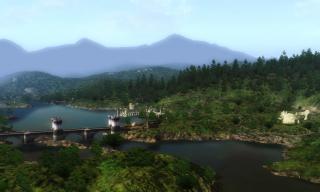 Views: 2,919
2.2.2
ElminsterAU
Name: TES4LODGen
Version: 2.2.2
Date: 25/02/2008
Category: Utilities
Requirements: None
Compatibility: Windows XP/Vista
Author: ElminsterAU



Description
TES4LODGen is a One-Click DistantLOD Generator.


Installation
Not necessary.


Requirements
You MUST have HDR enabled. Otherwise it can happen that all distant objects "flash to black" depending on the viewing angle.


Usage
Usage couldn't be easier:

1. Start TES4LODGen.exe - It will automatically find your Data Folder, list of active Modules and Oblivion.ini, load all active modules, load all associated BSAs and generate DistantLOD data for all worldspaces in all active modules.
2. Close the application once it's finished.
3. Play.

REALLY Almost Everything Visible When Distant is highly recommended to get the greatest benefit from TES4LODGen.


Advanced Usage
It is possible to control the processing for each worldspace by creating a plugins.tes4lodgensettings file in the same folder as plugins.txt.

>>>> Example >>>>
;Supported Rules: Skip, Clear, Replace
[Default]
Rule=Replace

[Worldspace]
Toddland=Clear
ToddTestLand2=Skip
<<<<<<<<<<<<<<<<<

Any worldspace which is not specifically listed will have the Default Rule applied.


History
1.2.44 BETA, 2008-03-07, Initial release.
2.2.0, 2009-02-23, Update to same backend as TES4Edit 2.2.0, should handle .bsa's on different drives
2.2.1, 2009-02-24, Deletes old .lod files before writing new ones. Processing rule can be specified per Worldspace using plugins.tes4lodgensettings file.
2.2.2, 2009-02-25, Fixes rotation of generated .lod information


Future
Nothing specific.


Contact
You can find me on the official Elder Scrolls forums as 'ElminsterEU' You can find me on TESNexus as 'ElminsterAU'


Licensing/Legal
This program is provided as-is with no warranties expressed or implied. I won't be held liable for any damage related to it's use.
There is nothing that can be considered malware in this program such as virus, trojan, adware, or spyware in it's original distribution. If this program gets romantically envolved with your significant other and runs away with him/her, I won't be held responsible for that either! Source code available upon request.