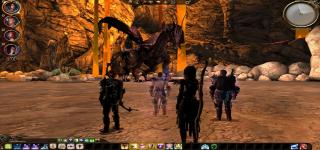 Views: 31,422
v9
dragonagefun
==================
// TEMPLE OF VULAK //
==================
* Extremely Challenging Dungeon *
* Hack & Slash Your Way to Victory *

Released for play with customized creatures, encounters, and loot!

v1.9 Uploaded (5/24) - I have recreated the entire Halls of Testing to fix the 'can't load saved game problem'. I have tested extensively by saving and loading in every single room. NO MORE PROBLEMS... yay!!! =) I also went back and remade some of the items - Definitely worth the time to go back and get the new armor model =)

Anyways, please continue your support for this mod and my future mods. It gives me drive to know people are enjoying my creations - which will keep me making new mods =) As always, continue to leave comments and report bugs. I will try to fix any problems as soon as possible.

For those few people who has to play this mod on v1.91-no-resized-creature, I APOLOGIZE. I do not know why resized creatures cause a few of you guys to crash while it works for the majority. The last half of the dungeon was designed with "resized" creatures in mind, so it might not make much sense at the moment. I will go back and change the layout abit to accomodate regular-sized bosses. If anyone knows for sure why "resized" creatures are causing crashes in 5-10% of the player base, please let me know.


===============================================
===============================================
===============================================


...:::BACKGROUND::::...
Tales of a mysterious ruin resting in the middle of Amaranthine Ocean surfaced in Ferelden. Discovered by sea-travelers to Bracilian Forest, whispers of glory and riches awaits those brave enough to seek adventure here. Legend speaks of Vulak as the Dragon Highlord, the Lord of the Scales. It is unknown if in fact he is real or mearly a legend. With the most recent onslaught of the Archdemon & the Blight after 400 years of near quiet, what was belived to be tales of legend, might actually be true. There is only one way to find out. You will gather the strongest and most brave adventurers and venture towards this newly discovered Ruined Temple. Only then can you find out all the mysteries it hold.


...:::INTENDED FOR::::...
Characters level 20+ who is about to begin the Final Battle against the Archdemon. You are expected to have very good NPC tactics, high level gear, and good amounts of consumable. If "your" Alistair likes to run into battle randomly, you will be in a world of hurt (unless you're totally modded out). This adventure is "tuned" to the best gear obtainable from "regular campaign play" so heavily modded party might find this not much of a challenge. For my party of level 20-22 on Nightmare Mode, it is a challenge WITHOUT Nightmare Plus. In fact, I had to turn off Nightmare Plus to get through what I created. Even when I know the entire layout, I still die multiple times when I tune the dungeon. If you are running Nightmare Plus or a modded difficulty.gda & autoscale.gda, you will find this adventure very very challenging.


...:::DESIGN CONCEPT:::...
I have personally completed this game about 4-5 playthroughs. I have downloaded countless "item" mods to try and make the game interesting, including Nightmare Plus to make the game harder. No matter what my hero looks like with all the new downloaded gear, I was still PLAYING THE SAME GAME over and over.

So I set out to create a dungeon that was HARD. Something that will take me a while to finish. A dungeon where I have to move slowly, analyse the room and mobs first before going in. Boss fights where I will die many many times, before I get the right strategy to beat. I had to pause the game frequently. I had to carefully pull mobs to me instead of going to them. I had to use potions, use elixirs, and all that pesky stuff you normally just sell to a merchant -- because you could run head into anything and live.. until now. I don't know about you, but all those rock salves, elixirs of whatever protections, traps, etc.. I have NEVER had to use.. ever.

So.. here we are. Bored of an easy game, i set out to create something challenging. I will not be throwing 20+ mobs at you to overwhelm you making the game impossible. What the i did instead was making bosses hit MUCH MUCH harder, set up custom fights where you must pause and plan out your strategy. Time that heal along with a potion at the right time. Paralyze proper mobs, or group sleep ranged mobs etc... What I intended was for you to fail if all you did was run into a room, and try to take everything on. At least thats the intent... =)


...:::ADVENTURE TYPE:::...
This module is added into your "Original Campaign". You will travel to and from this dungeon via the world map. The jumpoff point is Flemeth's hut.


==================
...:::VERSION UPDATES:::...
==================

v1.9_Release2
This should be my pre-final release. I have fixed all the crash problems, I have tested for any "saved game" problems in every room. I have repackaged the entire mod from scratch to make sure I have a very clean package. Everything SHOULD BE WORKING perfect.

Changes in this version
- Rebalanced some item's stats. Some items I felt were under powered, and some I felt were slightly over powered.
- Changed the model for leather armor so it looks slightly better (more colors)
- Changed the robe model to a different dress. The old mage robe was looking very boring to me.
- I moved a few loot around to different mobs.
- I included ALOT more loot to Vulak. He should drop an assortment of enchant runes, some tomes, a bunch of gems, etc...
- I fixed minor spelling errors, and removed useless items
- I changed some creature models in Dragonflight Mountain. The dragon mounts are much larger!
- I changed some of the creature AI, mostly in the Halls of Testing. Now the creatures should use approporiate skills. For example, a DW skeleton should now use momentum, flurry etc.. Archers will now use proper skills as well. This AI change generally made the encounters a little bit more challenging.
- The 2nd half of the of the dungeon is left untouched. I felt it was "hard enough" but not impossible.. which was my goal.

As always please report bugs, leave me comments, give me a kudo, or just tell people to about this mod =) I like hearing feedbacks from the community!



===============================================
===============================================
===============================================

...:::LOOT DESIGN CONCEPT:::...
I took the BEST items I can find in the original and DLC content... and increased the strength by about 5-10%, since this was designed as an "end-game" package. The intent is for you to beat the game, and transfer the items to Awakening for that playthrough as well, thus the higher level stats. The items however are NOT overpowered, and you should be able to replace it in Awakening.

Some items come as lower tier material because I wanted to change the appearance without creating new texture mesh. So instead of creating everything with Dragonbone - this makes every item "brown" - I used materials like Silverite, Red Steel, Ash, Whitewood etc... To compensate for lower tier material, I made sure to adjust bonuses properly. Some items you get might be a weird tier material. This is because I set the material property to "All Metal" or "All Leather" etc.. You can easily upgrade the material by selling it to a merchant and rebuying it. Soldier's Peak works great for this.

Item that CAN be upgraded by selling to merchant at Soldier Peak --

* Conquest Sword
* Dragonspine Sword
* Frostwrath Sword
* Eternal Rapture 2h Sword
* Judgement 2h Axe
* Mace of Holy Blight
* Both daggers (Claw and Lifebane)
* Arrowstorm Bow
* Relentless Xbow
* All 3 Staffs can be upgraded also

Items that can NOT be upgraded --

* All the armor can not be upgraded (but they are already better than items in game, even if i used lower tier)
* Ruthless Dragon Cleaver
* Silent Thunder Longbow
* Warpath Maul
* The 2 shields can not be upgraded


* Superiority Tanking Set is only Silverite, but the bonuses will make it the highest armor set in game and better stats - but not over powered.
* Shadowmeld Rogue Armor is tier 2 material, but it has very good set bonus that makes it better than any other set.
* Judgement Axe will give you the MOST chance to crit, but does not hit as hard.
* Eternal Rapture 2h Sword will give you the MOST crit damage, but it's average base damage.
* Warpath Maul will give the MOST REGULAR damage hits, but it does not crit often.
* 1h mace is very good against Undeads, 1h axe is very good against dragons, Frostwrath is proabably the most balanced "overall" tank sword.


...:::WHY SOME PEOPLE MIGHT "CRASH":::...
When I designed this mod, I decided to include altered creature models to add in more "dramatic" boss fights. To do this, it required me to modify and include .GDA files which the game reads. Now, these files CAN also be included by other modders who decide to make changes that require this step in their mod. When multiple of the same files end up over-riding each other, "crash" happens. For example, if you had a mod that calls the same modified file I used, then that mod's file could over-ride mine, essentially losing any data that was included by me. This can happen the other way around also. Since this is a 3rd party modding system, none of us modders work off a SHARED FILE... thus conflicts happen. I hope this clears it up. Majority of the people are able to play w/o any conflicts. Some people hit conflicts - and I'll guess it's because you have a mod that calls a datafile that conflicts with mine. I hope this explains it - and it's also why the game runs perfectly if you download v.191-no-creature-resize, because I did not include modified data files.

Data files I modified are:
apr_base.gda
head.gda
meleering.gda
m2da.gda


===============================================
===============================================
===============================================

...:::INSTALLATION:::...
Uninstall and delete any old versions you might have via DAModder. Unpack the .rar and install the .DAZIP with DAModder or whatever method you feel most comfortable with. IF you do find yourself crashing at very specific areas, it's probably because I have used "resized" creatures and you have a mod that's conflicting with mine. I ADVISE you to disable other mods you might have that alter graphics in the game world and play through this game once, just to experience the boss battles as they are intended. =) Otherwise, download "v1.91_no_resize_creature" instead. It won't feel epic, but in the end, its still the same game.


===============================================
===============================================
===============================================

...:::DISCLAIMERS:::...
- This is my first time creating an adventure mod. I tried my best to release a bug free mod.
- I will not be inserting god-items into this adventure. You will not find weapons with +10 damage, items with +10 armor, etc... which breaks game play. I will however, create items powerful enough for you to take with you to Awakening. IF the demand is high enough, I will create higher level tier items.
- Forgive any other mistakes I might have left in the mod. It was a HUGE project for me, being my first mod. I hope I have created something enjoyable for all of you =)

If you are a modder who understands how to write scripts, I would love to get some help from you. There are many encounters I want to script to truly create an epic adventure, unfortunately I am not a programmer. Please contact me if you're interested.

Thanks!!!