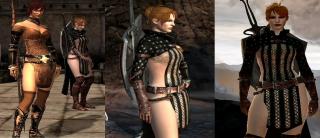 Views: 8,286
1.0
Thor925 and motseer
v1.0
4/2/11

By popular demand - TnT_Warden_Champion_Mage You will receive full set of champion armor and staff in your inventory upon arrival at the Gallows. The armor is evolving and has the TnT Warden texture and model. You will ONLY receive the armor and staff if your character is a Mage!!! It is not possible at this time to make it for more than one character type (as far as I know). If there is enough demand I will consider making one for rogues. Enjoy!



Update 4/1/11
New! Bethany in black and bronze with a little skin. For those who would like to use it for your mage player character I suggest the very fine mod by BurntCheese, Bethany's Robe - Evolving. Upon arriving at the Gallows your mage will receive champion armour converted to Bethany's robe. If you add my texture... :)



Installation
First up - Sexy Warden for the gals. No readme. Just put the .erf file in your override folder. Medium textures for now. Hirez to follow.

Before you ask! For now, this is a replacer only. This means you will have to wait for it to be awarded in the game.



Conflicts
There are already a number of mods that change the rewards gda and I don't want to be dealing with mod conflict complaints - at least until there is a tool set.