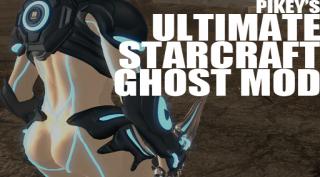 Views: 34,532
1.02
Pikey
LATEST QUICK UPDATE (NOV 11, 2010, 10:37AM EST): AFTER WRESTLING WITH THE GECK FOR A 4 HOUR SESSION AND BARELY JUST GETTING THERE, GECK CRASHED HARD MAKING ME LOSE EVERYTHING (not just my changes since the last save, it WIPED my mod's data). OBSEDIAN, FIX THIS.

Sorry folks, but due to this set-back I am now working off an archived file I made 3 hours ago. Fortunately, I believe it's just the questing information that got lost.




LATEST UPDATE (1.02) - Spectre/Male Ghosts are HERE!!! (well... kinda)


* Readjusted Gun Model Lighting
* Fixed Psyblade Crash Issue
* Spectre version of the Armor Set Added (THIS SET ALSO WORKS FOR MALE CHARACTERS!!) ... but the male version is currently just a placeholder recoloration of the Chinese Stealth Armor.
* Allow Male Players to wear Ghost Goggles*
* Numerous Gameplay Balance Changes: Armor Bonuses, Armor Stats, and Weapon DPS (Read "UPDATE HISTORY" for more Details)
* Time of Release: November 9, 2010 (11:42 pm EST)





NEXT UPDATE (1.03)



* BIG BIG BIGGG BALANCE CHANGES
* Graphical Adjustments and tweaks
* Add details to Gun Model
* Dust/Dirt meshes on existing models
* Fine-tune Spectre armor's black levels
* Optional Glow FX Variation Patches
* Continue balance changes
* Cheater's Version (Super-powered Weapons/Armor!)
* Allow non-Spectre versions of Armor sets for male characters
* Add models and details and/or completely replace the placeholder models for the Male versions
* Change armor/item spawn points to better correspond with the player's progress and difficulty throughout the game.
* Expected Time of Release: November 11, 2010


===========================================================

I haven't gotten enough time to do some proper play testing yet, so I need feedbacks atm!! Please leave as much of your thoughts/impressions as you'd like (negative or positive) in the comments section. I

WILL be reading them. There's most definitely a gameplay balance update coming soon within a day or two.
MAJOR props go out to SARSBEAUTY and his mod for inspiring me to start making this mod (as well as letting me use his resource files)!!! And, MAJOR props to BUNSAKI for letting me use the resources from his HGEC Ghost Conversion (and can't forget Daishi86 who let me use his Goggles meshe fix!). Lastly, a big nod Lfox and his Stealthboy script. The cloaking ability is pretty much his except the visual effects (very sorry I did not get you in here earlier when I should have)!
u>If you like the mod, PLEASE remember to come back to the page and endorse. :P

===========================================================

INSTALLATIONInstalling the Mod


* Move all of the contents within the /Data directory into your game installation's /Data directory.


Installing the Saves (COMPLETELY OPTIONAL)


* Move the contents of the /Saves directory into your game's /Saves directory (typically found in your Documents folder, varying depending on which version of Windows you have).


Uninstalling the MOD


* Remove the installed files.

MOD GOALS
u>

The MOD refines the existing female Starcraft Ghost mods, and adds a handful of spins.

There are two Ghost Armor sets, each with their own texture sets, both touched up greatly from the existing textures out there. The raised Goggle graphic is attatched to the main armor. Each pieces of the armor set will grant you bonuses. The lowered Goggles also gives you nightvision, activated by crouching indoors or the sun going down.

The MOD also gives you a cloaking device that also has its share of powerful bonuses and a damage-resistance penalty upon use. I should also note that coming out of cloak triggers a pretty cool special visual effect.

There are three unique weapons, a moddable semi-automatic sniper rifle, a moddable automatic rifle, a hold-out enabled melee-weapon, and a handful of mods to go with the rifles. The rifles can both be modded with a unique ability mod (different for each rifle), a sight scope, and/or a silencer attatchment.

This mod also includes two character save files of characters named 'Kerrigan' and 'Nova', both designed to look as much like their Starcraft counterparts as possible within the limits of the Fallout New Vegas game engine. Both characters are parked in front of the the Vit-o-matic Vigor Tester in his house at the beginning of the game to allow maximum user customization/choice.

This mod is designed to make you feel powerful and like a Starcraft Ghost stranded in the Fallout universe, while not making the mod feel like a cheat. The weapons and armor are sufficiently powerful enough to provide a satisfying experience of being a super-trained bad ass even on the 'Very Hard' difficulty. Do mind, while you can mow down very early/easy enemies like it's no one's business, you will get butt-raped in the later levels and level-check enemies in areas like the North Highway (Deathclaw) or Black Rock Mountain (Super Mutants).

This mod will eventually have more content as I keep learning how to use the G.E.C.K. and modding in general, and as I start getting feedbacks and requests (hopefully).

ITEM DETAILS/FUNCTIONS & LOCATION



Kerrigan/Nova's Ocular Lens & Nyx-Class Optics (Spectre Variation)
Ghost Goggles with time/context based Nightvision


* Interior Nightvision: Activated upon crouching Indoors
* Outdoor Nightvision: Activated during Night hours, more specifcally between 8:30 pm and 5:50 am.
* Increase Perception by 2
* 'Four Eyes' Enabled
* Increase Guns by 15


Kerrigan/Nova's Crius Facemask & Nyx-Class Facemask (Spectre Variation)Ghost Facemask


* Increase Sneak by 10
* Increase Fire Resistance by 15
* Increase Poison Resistance by 15
* Increase Radiation Resistance by 15


Kerrigan/Nova's Crius Armor & Nyx-Class Armor (Spectre Variation)Ghost bodysuit that also includes the graphics of the raised Ghost Goggles by default.


* Increase Action Points by 50
* Increase Sneak by 15
* Increase Fire Resistance by 35
* Increase Poison Resistance by 35
* Increase Radiation Resistance by 35


Kerrigan/Nova's Gloves L & Nyx-Class Gloves L (Spectre Variation)Left-handed Glove


* Increase Lockpick by 15
* Increase Repair by 15


Kerrigan/Nova's Gloves R & Nyx-Class Gloves R (Spectre Variation)Right-handed Glove


* Increase Luck by 3
* Increase Unarmed Damage by 25


MOEBIUS CLOAKING DEVICE


* Activation upon Equip Toggle (listed under Aids)
* Adds Stealth Field Strength of 60
* Increases Sneak by 10
* No Weapon Spread while Cloaked
* Damage Resistance REDUCED by 125
* Endurance Reduced by 3
* A cool unique effect when the device is toggled off


C-10 Canister Rifle An incredibly powerful medium/long-range Semi-automatic Sniper Rifle


* .50MG Caliber Ammunition (Supports Ammo List)
* Stronger than the Anti-materiel Sniper Rifle
* 4 Round Clip
* Very high base chance-to-hit percentage in VATS
* Increase Crit-Chance by 3
* Has a Limb-damage multiplier of x1.25


C-10 Weapon Mods


* Mark VI Sighted Scope: Attatch Sniper Scope
* Mark VI Noise Suppressor: Attatch Silencer
* C-10 Chambers Capacity: Increase Clip by +4 Rounds


C-20A Gauss RifleA powerful short/medium-range Automatic Rifle


* Uses .50 Caliber Ammunition (Supports Ammo List)
* Stronger than the All-American rifle with a higer rate of fire and greater accuracy
* 24 Round Clip
* Very high base chance-to-hit percentage in VATS
* Increase Crit-Chance by 3
* Has a Limb-damage multiplier of x1.25


C-20A Weapon Mods


* Mark VI Sighted Scope: Attatch Sniper Scope
* Mark VI Noise Suppressor: Attatch Silencer
* C-20A Psionic Chambers: Adds round regeneration (Average 32 rounds from a full 24 round clip)

Psyblade & Terrazine Blade (Spectre Variation)
em>A powerful Close-Quarters Combat Knife


* Casino/Zone Hold-out Activated
* Very high Crit-Damage to enhance usage while sneaking
* Increase Damage Resistance by 25
* Increase Damage Threshold by 5
* Very high base chance-to-hit percentage in VATS
* Fully customized Sound Effects


Ammunition


* 2000x .50MG Rounds
* 1250x .50MG Armor Piercing Rounds
* 1000x .50MG Match (Hand-Load) Rounds

Ghost StimpaCk 250x
* Restores a little more HP than a Super Stimpak
* Includes Hardcore mode calculations

CURRENCY + AIDS
* 150x Bobby Pins
* 2000x Caps
* 200x Pre-War Money (equal to 2000 caps in Value)
* 20x Legion Aureus (equal to 2000 caps in Value)
* 50x $100 NCR Bills (equal to 2000 caps in Value)


All of the items are stored in a locker named 'Confederate Munitions' in the Goodsprings Schoolhouse.
THINGS TO COME
u>

Based on low-level testing so far, I believe the weapon-mods make the guns a tad-bit too powerful. A patch is incoming anyway as Sarsbeauty will be fixing the lighting on his Ghost Gun mod soon. I will be taking that opportunity to move the Weapon mods to some place like Gunrunners, a location deeper into the playthrough rather than the school house.

I also plan on adding quests, or at the very least, in-game notes embedded throughout the game to enhance the fiction of a Starcraft Ghost being stuck in a Fallout universe (I am thinking about using the whole 'oh the ghost got lost in a space wyrmhole' plot).

I am split about including Nuclear Weapon effects like the Fallout 3 mod used to have. Having a Starcraft Ghost in Fallout 3 is enough, but orbital based nuclear strikes? I am just not really sure about that. What I might do is allow the Ghost to utilize the Archimedes for calling in strikes, but that probably won't be until I've learned more about the G.E.C.K..

Expect this mod to be constantly refreshed with models from Sarsbeauty (the orignal modeler of the rifles), who is currently working on a Ghost model set from the ground up instead of the models dating all the way from the Oblivion VI mod.
CONSOLE CODES
u>
xx = This is where the mod's load order number goes


* Ghost C-10 Canister Rifle (Sniper) - xx0038CD
* Ghost C-20A Gauss rifle (Automatic) - xx004A08
* Ghost Mod (Silencer) - xx000AE6
* Ghost Mod (Scope) - xx00B9EF
* Ghost Mod (Unique Automatic Rifle) - xx010761
* Ghost Mod (Unique Sniper Rifle) - xx000137E
* Ghost Melee Knife - xx007AB6
* Spectre Melee Knife - xx01496D
* Ghost Stimpack - xx00DC6D
* Ghost Cloaking Device - xx00D0F3
* Ghost Goggles (Kerrigan) - xx008BEB
* Ghost Facemask (Kerrigan) - xx011896
* Ghost Suit (Kerrigan) - xx0038CE
* Ghost Gauntlet L (Kerrigan) - xx003BAF
* Ghost Gauntlet R (Kerrigan) - xx003BB0
* Ghost Goggles (Nova) - xx009A44
* Ghost Facemask (Nova) - xx011896
* Ghost Suit (Nova) - xx009D2A
* Ghost Gauntlet L (Nova) - xx009A42
* Ghost Gauntlet R (Nova) - xx009A43
* Ghost Goggles (Spectre) - xx0154F2
* Ghost Facemask (Spectre) - xx0154EF
* Ghost Suit (Spectre) - xx0154F3
* Ghost Gauntlet L (Spectre) - xx0154F1
* Ghost Gauntlet R (Spectre) - xx0154F0


UPDATE HISTORYNovember 9, 2010 - v1.02 (LATEST!!)


* Added Spectre Armor Set, which is also enabled for male characters (uses placeholder variation of the chinese armor)
* Added Spectre version of the Melee Weapon
* Armor Stat Bonuses significantly lowered
* Stealth Device Strength lowered to 60
* Rifle Damages slightly lowered
* Removed + 75 to Science from Goggles
* Changed Armor/Weapon texture compressions to improve performance
* Fixed Knife Causing Crashes
* Adjusted Gun Lighting (More adjustments to come)


November 7, 2010 - v1.01


* Fixed the Shell-ejection problem that was causing the guns to be unplayable.
* Adjusted the Sound-correction settings to better reflect the environment the Guns are being fired from.
* Added an incremental patch version for everyone using versions older than v1.01


THANK YOUSBethesda/Obsedian Albeit buggy, for putting out an awesome game with a great MOD tool set.Fallout New Vegas Nexus

For being awesome.

SPECIAL THANKS to the following for allowing Permission to use their mod resources:
Bunsaki - Ghost HGEC Conversion (Armor & Knife Models)
sarsbeauty - Ghost Rifle Remake (Rifle Models & Textures)
lfox - Stealth Effect Scripting
daishi86 - Raised Goggles Meshe height fix